Altuzarra's Celebrating 10 Years By Bringing Back Its Most Unforgettable Pieces
Altuzarra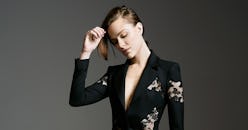 Anyone who keeps their finger on the pulse of the fashion world knows that when it come to designers, no matter the category, the list is constantly growing with new names to know and discover each year. So, when a beloved brand reaches a monumental anniversary, it's worth celebrating. While throwing a birthday party or an online sale may be the norm for most brands, Altuzarra's new capsule collection celebrates the brand's 10-year anniversary in the best way possible.
Founded by Joseph Altuzarra in 2008, the luxury clothing and accessories brand has gone back into the archives to look bring back pieces you might have missed the first time around. Aptly named "The One That Got Away", the brand asked 10 of the designer's closest friends and collaborators (including notable industry stakeholders Jenna Lyons, Evan Rachel Wood, and former Vogue Paris editor Carine Roitfeld, among others) to choose a piece from one of Altuzarra's past collections they wanted, but hadn't had the chance to get.
The result? A collection comprised of 12 ready-to-wear piece and three accessories that, together, embody the past 10 years of the brand's mission to create a fresh and alluring wardrobe for the confident, modern woman.
The capsule collection is without seasons in mind, featuring both heavy winter outerwear and lightweight sundresses, as well as pieces you can wear year-round. While you're still facing the treacherous winter weather, add the Cyprus Jacket, $3,495, to any of your outfits for a cool streetwear-inspired addition to your ensembles. Style it with the Driftwood Skirt, available for $1,590 and selected by Roitfeld, for an extra edge, or wear the skirt with a chic blouse for a head-turning approach to the office pencil skirt. Just in case you have a special occasion coming up soon, sport this shimmering velvet Farley Dress, which costs $3,295, with a pair of classic black pumps or sandals.
As you look toward spring and summer, the Chika Shirt, $795, can be styled with the Obi Skirt, $1,195 for a head-to-toe striped outfit, or as equally beautiful separates. Or, welcome the warmer weather with the Kieran Dress, which features the classic gingham print. Of course, you can't forget the accessories. Add these Twisted Silver Toned Earrings, $395, to instantly dress up your ensemble, or style the tropical print Bird of Paradise Printed Pumps to channel your vacation goals for the year.
Now, scroll down to see everything in the capsule collection below.