Those Alo Yoga Moto Leggings You See Everywhere Are On Sale For Black Friday
Alo Yoga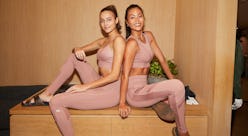 The verdict is in: Leggings are pants. At least they are according to the celebrities obsessed with Alo Yoga leggings, who wear the stylish leggings with leather jackets, trench coats, and basically anything else in their closets. Still not sure about it? Try a pair for yourself, because the normally expensive leggings are majorly discounted during the Alo Yoga Black Friday sale.
Makers of the famous Moto leggings worn by Gigi Hadid, Alo Yoga is offering 30 percent off your entire online order (and free shipping!) starting Nov. 16 through Nov. 22 when you use the code EARLYACCESS. There will also be a sale from Nov. 23 through Nov. 27 that won't require a code, because everything will be hand marked at 30 percent off. All of Alo Yoga's most popular legging styles — the Moto, Goddess, and Airbrush, just to name a few — will be on sale, and honestly no one would blame you if you bought a pair to wear every day of the week.
Usually, the luxury leggings are on the pricier side. Called the High-Waisted Airbrush Legging, the leggings Kendall Jenner wears regularly retail at $82. The price doesn't just cover the celebrity-endorsed style (though the five inch high-waisted rise is a winner); the leggings are engineered without side seams from moisture-wicking fabric, and tested by yoga practitioners. But just order your pair during the Black Friday sale event and they'll only cost you $57.40.
Alo Yoga's Moto leggings are so good the brand patented them. The leggings are made from a fabric that's both matte and shiny, giving off a leather sheen, and paneled with sheer mesh for a cool moto aesthetic. Normally, a pair of the beloved high-waisted leggings would cost you $118. At 30 percent off during Black Friday, though? The leggings will only be $82.60.
The price may still seem high, but buying high-quality leggings is actually one of the best presents you can give yourself. You don't want leggings that'll inevitably rip (always during the worst possible times) and end up in the trash can, so invest in leggings that will withstand whatever yoga move your teacher throws at you. Alo Yoga also only makes 100 percent sweatshop free clothes and incorporates sustainable practices.
Alo Yoga crafts all its athletic wear and athleisure as expertly as the leggings, and understands what goes into well done street style. Some of the cutest pieces from the sale aren't in the legging section, either. If you've been looking for the right teddy jacket to wear through autumn's early chilly days, grab the Foxy Sherpa Jacket in pale mauve while it's on sale at $131.60 from $188. It's made from sherpa fabric, not imitation, and has an oversized fit with a detachable hood.
Whether you go to yoga three times a week or only wear leggings to watch Netflix, there are hundreds of luxury active wear pieces to choose from, all 30 percent off. Below, shop eight deals from Alo Yoga's Black Friday sale before it ends.