Everything You Need To Know About Alfeya Valrina's Shopbop Collection
Courtesy of Alfeya Valrina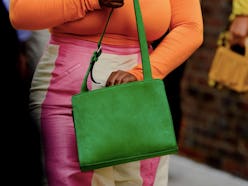 Mark your calendar and set your alarm: Alfeya Valrina bags are coming to Shopbop soon. The buzzy brand that has quickly become a favorite for fashion editors and influencers will be joining the shopping destination's digital shelves in early October. And, the timing couldn't be any better, given you're likely already on the site working on your shopping haul for the new season.
For those not yet familiar with this emerging brand, Alfeya Valrina started her namesake accessories line "with a mission to promote fair labor practice in Indonesia" according to the brand's website. The bags use ethically-sourced materials and are handmade in the brand's studio in Indonesia with the help of local artisans. The collection includes picture-perfect styles in a slew of shades from vibrant hues to neutrals, making it a line you'll definitely want to have on your radar as you shop new bags for fall.
Shopbop's offering will include a diverse range of the brand's eye-catching designs in different colors. That said, all of the styles that'll be in the e-tailor's initial lineup feature Alfeya Valrina's signature vinyl insert, which not only provides for an interesting design element but a place to hold your essentials, too.
Courtesy of Alfeya Valrina
Courtesy of Alfeya Valrina
The first style you'll want to take note of is the "Joe Joe" — a curved, top-handle bag that's been spotted on the likes of Janelle Marie Lloyd, Alyssa Coscarelli, and more stylish women. The popular silhouette will be up for grabs on Shopbop in both croc-embossed and smooth leather iterations in neutrals, bold colors, and a glistening metallic silver.
Courtesy of Alfeya Valrina
Courtesy of Alfeya Valrina
Within the mix you'll also find squared-off shapes like the small "Alea" crossbody and its larger version called "Nithia" as well as a sleek, hand-through clutch named "Imah." But, if you're still keen on bringing a mini bag into your look, take note of the "Dey" when perusing Shopbop in a few weeks. Small but mighty, the tiny top-handle style will bring a lot to an outfit in either the croc-embossed green or mustard colorways. Or, you can opt for the bag in a fall-ready orange hue with a clean finish.
Already starting your wishlist? Come October, make sure to pop over to Shopbop to snag the Alfeya Valrina styles you're loving before everyone else.