How A Breast Cancer Diagnosis Changed 1 Woman's Style — And Her Life
Kate Hollowell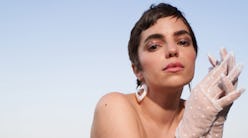 Four words can change your life in an instant: You have breast cancer. For Angela Trimbur, this instant came in July of 2018. Her OBGYN discovered a lump and ran a biopsy, the results came back positive not just for cancer but also the BRCA2 gene. It was recommended she have both breasts removed. Throughout the surgery and chemotherapy, Trimbur decided to document the entire process, finding not just a renewed love for herself but also her style after breast cancer. "It seemed like many didn't know too much about what goes into breast cancer journeys," she tells TZR. "So I decided to share my day-to-day decisions and feelings on Instagram. I wanted to offer a peek behind the curtain to help educate on this mysterious yet unfortunately common experience. It gave me purpose."
Trimbur, who is an actor and dance squad captain based in Los Angeles, recently received an Icon Award from The Pink Agenda, a partner of The Breast Cancer Research Foundation for "the unique, vulnerable, and warm ways" in which she shared what goes down from diagnosis to recovery. In addition to the mental and physical challenges of the journey, Trimbur's body has gone through changes, all of which led to a change in her approach to personal style. In celebration of this transformation, Trimbur collaborated with stylist Neelo Noory and photographer Kate Hollowell on a photoshoot to capture a more intimate look at her style, including a stunning vintage dress from Happy Isles and a slew of sleek pieces from newly-launched label KkCo. "We wanted to explore a powerful bold femininity in clothes that I have never worn before."
"A friend once described my previous style as 'Kelly Kapowski meets Screech' and I would say that is very true," Trimbur says. Her closet was a nostalgic amalgamation of '90s cropped denim jackets, high-water pants, Reeboks, and a few scrunchies thrown into the mix. "That look has changed a bit. When you have a double mastectomy, you're told to get a lot of button-down shirts since you can't raise your arms over your head for a month." Other shopping list items post-surgery included pieces that felt soft against the skin. "My style was forced to change in that way. It became a hunt for oversized soft button-downs that didn't look too business-y or too pajama-y."
Once she began chemotherapy, a fresh set of wardrobe essentials took precedence. "It became clothing items that brought me joy, since going through [chemo] was the most challenging thing I have ever experienced. If it made me smile for any reason or made my heart feel nice-looking, it was helpful and important."
"When you're going through this process you really look in a mirror differently," she shares. Pre-diagnosis, a mirror was something Trimbur used to help curl her hair, apply makeup, or try on an outfit. "After I was diagnosed, it was spending a lot of time looking at my naked body at all angles — saying goodbye to my 'biological' breasts and thinking about our history together." After the surgery, "it was meeting the new shape and scars and thinking about our future together."
Another step in the process was hair loss. She decided to take the reins and reframe her loss into a hair transformation journey (one that was shared with Vogue last October). "Since I had a month or so before it was all gone, I wanted to let go of fear in an extra fun way: explore all the hairstyles I always kind of wanted but was too afraid to try." Trimbur started by trying a perm, graduating to a number of different styles, and concluding with a bleached, shaved look ("so when [my hair] started to fall out it would be less noticeable").
Once coming out the other side, Trimbur notes she began to see herself differently. "Wearing my Angela 1.0 clothing doesn't exactly feel correct," she says. "These hormones I have to stay on for five years have changed my weight and many pieces don't fit me the same. New looks in new sizes is where I am at right now. Exploring what feels best day to day, moment to moment, evolving into a fresh mirror reflection to wave to before walking out the door."
Part of this acclimation to Angela 2.0 meant releasing clothing pieces that no longer served a constructive purpose. "I seem unable to wear anything I used to wear to chemo without it making me gag," she says. "So I recently put all of those items in a big bin and in my garage. One day I'll pull them out and see how I feel about them. But for now, that cool vintage cardigan, that purple Patagonia jacket, and those baby blue comfy cashmere pants all remind me too much of that rough time. I want to feel fresh now. I need clothing that has zero memories attached so I can make new ones."
With surgery and chemo in the rearview mirror, Trimbur is able to realign her focus on work and her hobbies. This means acting — she's appeared in television shows like The Good Place and films including It Happened In L.A. and The Future. But also, dance. In 2014, she created the L.A. City Municipal Dance Squad and currently serves as the captain. "It's been five years of learning so much about female friendships. and how to keep everyone committed and how to keep it all fun and fresh and silly."
The dance squad is an important outlet for her to express joy in style. She created a no solid black rule for rehearsals so the team members wouldn't blend into the background wall when they filmed themselves. "That rule forced us all to branch outside of our usual gym looks and express ourselves through colors and prints," she says. "Buying new fun looks 'for squad' has become an exciting thing."
Outside of the dance studio, Trimbur's current fashion vibe is "confident French CEO — blazers and heels as well as tailored pants and silky blouses." She's also an avid vintage collector, often shopping via Instagram, and attributes the "mysterious history" behind each piece as a reason to buy.
To other women going through a breast cancer journey, Trimbur says, "you aren't dressing for anyone but yourself and you will need to collect all the joyous feelings possible to get you through." To her, fashion can help to fill this role. "Check in and ask yourself what would make you feel happiest right now? Your style will evolve as your feelings do, so embrace the freedom to explore outside of your previous wardrobe. Listen to your heart as it guides you to the new 2.0 version of yourself. The in-between is temporary."