Kendall Jenner Is Already On Board With Adidas' Cool New Collab
Lotte Andersen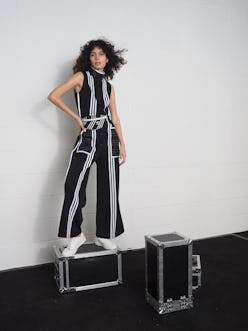 Adidas' iconic three stripes that run down the side of a pair of track pants or slash across a clean white sneaker have become a calling card for the iconic sportswear brand. But part of what cements the longevity of an iconic brand is its ability to innovate, which is exactly what adidas did by collaborating with designer Ji Won Choi. Choi is an emerging NYC-based designer who graduated from Parsons last year, and her thesis collection included a stripe motif throughout, making the collaboration with adidas a natural choice. "I would describe my design aesthetic as bold, energetic, and involves lots of graphic repetition," Choi exclusively tells TZR. The designs she created for the collaboration are a refreshing interpretation of classic sportswear, playful while still holding onto the signature DNA.
Though the collection debuted at London Fashion Week (and has already been spotted on Kendall Jenner), adidas Originals first connected with Choi over Instagram this past summer, "I first got a direct message from Alexandra Weiland, the head of creative projects for adidas Originals," Choi says. "From there it moved so quickly — within a few weeks I was in Germany at adidas Originals headquarters working with the team on the collection." Choi quickly began to develop her own interpretation of adidas' signature motif. "No matter where you are in the world, if someone sees the three stripes, they know what they represent," she explains. "It was a natural progression from the stripe motif that I've incorporated into my past collections to the adidas three stripes. We also pulled a lot of inspiration from the [adidas] color palette — the classic adidas reds and greens but also newer additions like the lavender, one of my favorite colors."
The collection is designed with the option to be worn together: Track pants have coordinating jackets, and the collection features coordinated accessories, including a hat and bag. But the reality of modern day dressing is that pieces need to function on their own as well. "Functionality is a huge part of my design approach. I designed every piece in the collection to be versatile, multi-functional both in how they can be worn with the ties closed or open, or tied in different ways," she explains. Adding, "Of course you can wear the tracksuits together for a very classic look, but they can also be mixed into a larger wardrobe which in my view is central to the idea of athleisure."
What makes for a successful collaboration is a shared vision that understands both the need for creativity and commercial success. And it rings true in the case of Choi's capsule: Though the pieces feel decidedly different from what you might consider to be a classic adidas design, they easily blend into the brand's aesthetic and could be easily paired with pieces directly from the Originals line. Below, find a selection from the collaboration so you can add a little bit of athleisure into your wardrobe this spring.