Acne Studios' New Spring Denim Line Is The Coolest '90s Take On Jeans
Courtesy of Acne Studios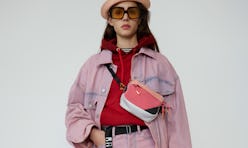 Acne Studios jeans were already cool. After all, nothing the Stockholm-based ready-to-wear brand and fashion house makes isn't sartorially cutting edge. But, if it's possible, the newest collection of Acne Studios spring denim elevates even the sleekest of the brand's staples, combining contemporary trends with throwback Acne Studios silhouettes — literally. The 1996 and 1997 jeans (two previously-used fits that make up the heart of Acne Studios' Spring/Summer 2019 denim range) are recreations of the first jeans Acne Studios ever crafted.
The release of the '90s-inspired collection began March 14, although select styles still marked as "coming soon" on Acne Studios' website. The pieces themselves are all posted online, though; so you can browse the looks at your own leisure, swooning over soon-to-be-released styles like the patchwork Acne Studios Blå Konst 1997 jeans or the $220 pink jean shorts.
However, you shouldn't miss your chance to buy pieces that have already landed on the brand's website, such as the $620 Acne Studios patchwork culottes, which feature an eye-catching, chevron-like pattern. Pair it with the $420 pink and blue denim jacket or the $900 red letterman jacket; both outerwear pieces are bound to become streetwear staples before too long. Like the jeans, the denim jackets recreate Acne Studios' originals — and who wouldn't want to make the varsity team for Acne Studios?
You may be noticing a trend here. Acne Studios noted in its press release that the collection was inspired by "'90s Americana archetypes", and there is something uniquely nostalgic to be found here. Especially when looked at together: The primary-colored hoodies complement the light wash denim jackets, the old-school denim fits shine a little brighter when accented with grunge-y ripped knees. Of course, there's no doubting the symbolism of the letterman jacket — a torch carried by American youth, passed from generation to generation.
You shouldn't wait around, too. Acne Studios' site shows that the collection's longer patchwork denim skirt has already sold out. With even more to come, ahead are a few of the pieces already available to buy.