Before You Set Your OOO: 6 Non-Cheesy Fourth of July Outfit Ideas
Photo via Kule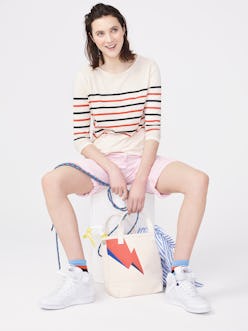 Prepare to fire up the grill and put the drinks on ice, because Independence Day is just around the corner. And while sporting red, white, and blue is standard order, you don't want to look like you hit up the nearest party supply store for your look. In short, you need a non-cheesy outfit option for the Fourth of July. Since Backyard barbecues, bonfires on the beach, and firework shows might all be on the agenda, you need something that is both patriotic and party-ready — a combination that's tricky, but not impossible.
The key to pulling off a successful Independence Day ensemble is to keep in mind the color scheme and event at hand, but still stay true to your sense of style. "Remember that you want to look on theme and not in costume," says Jim Kuerschner President of preppy-luxe clothing brand Kule. "Switch up the head-to-toe look in favor of something a bit more casual and unexpected." Cool on-trend staples like a polo shirt or crochet dress feel on theme in bold red and blue. You can also consider an all-white look with a pop of colorful accessories for something a little less on the nose. Below, you'll find a few influencer-inspired ensembles that will help you creatively incorporate national pride into your wardrobe this holiday, no flag motif required.
All In The (Color) Family
For minimalists who don't typically sport multiple colors, let alone bright or standout patterns, stay in your comfort zone and stick to an ensemble in a single hue. Wearing a dress or coordinated pieces in various tones — think cobalt mixed with teal, or navy added to seafoam — can be just as impactful as any eye-catching graphics, but you'll be able to re-wear everything after the fact. To add a bit of extra texture, consider feather details, seaside prints, and tie-dye in similar shades all up for grabs.
Low-Key Reference The Flag
"The biggest mistake people make with the theme is wearing entire looks with stars and stripes. You can easily get that wrong," explains stylist Joiee Thorpe, who has dressed celebs like Laura Harrier and Naomi Harris. Instead, sometimes it's the smallest messages that have the biggest impact. If a 'go big or go home' mentality is not how you'd like to celebrate, then embrace a laidback look with a more subtle salute. Opt for a simple star print, or denim with a patch or pin for a little nod to the patriotic.
Add Unexpected Color
Red, white, and blue…and yellow? Why not. Bringing atypical colors like yellow, orange, or green to the equation is a quick (and somewhat more relatable) way to achieve a low cheese factor. Make your look a melting pot of inspiration that has both prep and streetwear influences. Pull out your oversized army green pants, sorbet blazers, and purple skirts and pair them with staples that are more closely associated with the Fourth. After all, nothing says America more than reinventing tradition.
Pair Similar Patterns
Now is the time to bring out all of your stripes on stripes or head-to-toe checks. Unearth your stash of prints and patterns and style them in one playful assortment, just beware not to overdo it. "Most people simply do too much. You don't need an anchor belt and critter shorts to go to a barbecue. Fourth of July isn't just for people on boats," warns Kuerschner. Opt for a deep shade of navy or reach for classic French blue lines that feel like a more natural extension of your style rather than a costumey tribute. Couple stripes of different sizes or colorful, contrasting ginghams. The best part? Chances are you already have these items in your closet.
Select A Single Shade
Yes, your go-to red dress counts as Fourth of July fare; Donning one color and calling it a day is every bit the sartorial statement. Navigating the summer party circuit is about finding ways to make those high-voltage pieces feel cool over and over again. To take your look one step further, match your accessories so that every partygoer understands that this was all deliberate. Who says the founding fathers weren't champions of simplicity?
Keep Cool And Color Block
"Color blocking is a great way to tackle a patriotic look," suggests Thorpe. "If you're a minimalist, I say wear white, red, or blue in sections and use your accessories as the statement piece." Sporting all navy everything with swatches of tomato red or crisp white practically transitions your go-to outfit into something more fit for the fourth. Now it's time for you to go forth and party on knowing that you're fulfilling your civic duty in style.