The Bags TZR's Fashion Editors Are High-Key Obsessed With This Holiday Season
Shutterstock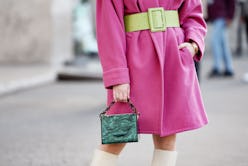 When it comes to putting together a holiday wish list, the practical usually takes backseat to the fantastic. Sure you could ask for more wool socks or a stockpile of soap but well, it's just not as fun to tear open a box stocked with something banal as it does when what's inside is a decadent treat. You have the rest of the year to buy things you need, but December is the month to ask for what you want. Which is why a handbag gift guide, handpicked by TZR's editors is exactly where to begin your dreaming and scheming this season.
A great bag isn't just an investment piece; it's also the exclamation point of any outfit. Slick, shiny patent leather can streamline an otherwise colorful look, while a belt bag can add extra style points to an already trendy ensemble. Your purse punctuates your personal style in a way coat or boots just can't. And if you feel the need to justify your dream handbag request to those actually doing the buying, here's an honest fact: a bag you'll use every day will have a lower cost per wear than just about anything else you might ask for. So then, maybe a lust-worthy bag is a practical purchase after all.
Below, find a list of the bags TZR's editors have their eyes on now, along with a little extra explanation as to why they should make your holiday wish list too.