The Best Gifts From Zara Home To Give Your Friend Who Loves To Decorate
Zara Home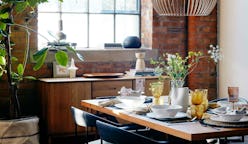 Every friend group has the one friend who's constantly decorating. Whether it's switching out their pumpkin-themed table linens for ones embroidered with snowflakes the day after Thanksgiving, or if you can count on never seeing their living room arranged the same way twice, it's surprisingly hard to find the right gift for someone that loves home decor. Home decor styles move fast these days, and no one wants to accidentally gift someone their equivalent to the Friends greyhound statue. But there are plenty of foolproof home decor gifts from Zara Home certain to win a place on display in your friend's artistically styled space — no matter their decorating style.
Don't get too caught up in spending time trying to guess what throw pillow your friend would pick out of a hundred: A key point is making it just as much of a gift from you as it is something you think they'll love to have in their home. Do you and your friend bond over being dedicated plant parents? Pick them up one of Zara Home's pale stoneware pitchers for $49.90 to simplify watering. The pitcher is pretty enough to be left out by the plants instead of hidden under the sink and will remind your friend of you every time they use it.
Another option is to gift them home decor that compliments what they already own. Rather than adding another candle to the collection of someone who already owns more than they can count, buy your friend a gold wick trimmer for $19.90. The posh accessory not only will make your friend's luxury candle collection look even more sophisticated, it also shows them that you appreciate how dedicated they are to keeping their space (and candles) beautiful.
Most people already own the staple decor pieces they want, like duvet covers or rugs — but that doesn't mean you can't get your friend a statement textile piece. Skip something static in favor of a throw blanket that will lend itself anywhere. Chances are one of the muted colors in this jacquard wool and cotton blanket will go along with your friend's chosen color scheme. Since the geometric blanket is marked down from $139 to $99.90, your friend will probably understand if you have to pick one up for yourself.
Still stumped? Opt for buying one of Zara Home's simple picture frames. With a chain for hanging and a stand for when it's not, this vintage-inspired gold picture frame for $29.90 is versatile, letting your friend make the choice as to where it ends up. The open design is ideal for displaying mementos from experiences you've shared together, too, like movie ticket stubs or concert tickets.
At the end of the day, it's the thought that counts, but Zara Home has a way of making every thought that much more beautiful. Ahead, nine decor gifts from Zara Home that will make your friend wonder how you knew them so well.