These Leggings Have More Than 5,900 Reviews At Nordstrom & Shoppers Are Completely Obsessed
NORDSTROM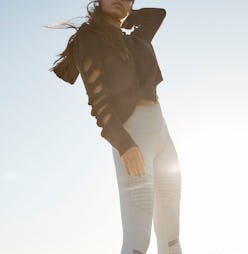 When it comes to shopping for a new set of leggings online, it can be difficult to know where to start. From the fashion styles to the more athletic designs, there are so many options at your finger tips that it can leave you spiraling. On top of that, not being able to try a pair on prior to purchasing adds a whole other layer of uncertainty. In times like these, simply turn to the lineup of cult-favorite leggings at Nordstrom, where you'll find pairs that have earned the stamp of approval from lots of customers.
Your fellow shopper is often the most reliable source when it comes to learning about what a product is really like. So, when you have the opportunity to scroll though a slew of glowing reviews from those who've already given a legging a try, well, that makes the shopping experience a whole lot easier.
When it comes to styles that you can wear from barre to brunch, the most reviewed pair (with more than 5,920 reviews, to be exact) currently on Nordstrom is Zella's Live In High Waist Leggings for $59. Rated just under five stars, the stretchy legging comes in both black and navy blue, and features moisture-wicking fabric as well as a no-slip waistband. The leggings are praised by customers for their fit and comfort level, with some going so far as to say they're the best pair they've ever owned.
But, if you're hunting for a style you can lounge in and then match up with a blousy button-down and a pair of mules, check out this $60 full-length legging from Lyssé. Designed with a hidden control-top panel, this style has been reviewed by over 300 customers and holds north of four stars.
However, you can break out of your black legging rut by opting for the Seamed Back Leggings in a dark charcoal hue from Two by Vince Camuto. The $49 leggings have racked up nearly a full five stars as well as over 990 reviews from buyers, with many writing that this style holds its shape well.
As for a night out? Take a peek at the black faux leather leggings from SPANX for $98. The highly reviewed, sleek style has received over 2,270 comments from Nordstrom shoppers and holds over a 4-star rating. Happy customers attest to the leggings having both controlled support and a comfortable fit. Consider styling the high-rise silhouette with a barely there sandal, a silky tunic top, and a set of danglers for cocktails with friends.
Continue on to shop the aforementioned styles as well as more top-rated leggings from Nordstrom for all occasions.