All Of These Breast Cancer Awareness Items Donate 100 Percent Of The Proceeds To Charity
AERIE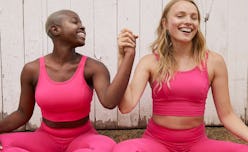 Though October may first bring to mind thoughts of apple picking and Halloween costumes, it's also important to remember that Oct. 1 is the start of Breast Cancer Awareness Month. Aside from certain types of skin cancer, breast cancer is the most common cancer for women in the United States, according to the CDC, making the fight against it a crucial one. Every effort counts, and this season there are a variety of brands across fashion and beauty that will not only be supporting the cause, but donating 100 percent of the proceeds from a product to a chosen organization. The efforts these items will support speak to many aspects of the breast cancer battle, from research and prevention to early detection and aid for women during and after breast cancer.
There are a range of items available to shop and contribute, including a pretty pink beauty collection from Estée Lauder supporting the Breast Cancer Research Foundation and athletic-wear from Aerie, with proceeds being donated to the non-profit Bright Pink.
Retailer Saks Fifth Avenue is also celebrating its 20th Anniversary of Key To The Cure (KTTC), its annual charitable initiative to fight cancer with a limited-edition T-shirt that will benefit the Alliance in Reconstructive Surgery (AiRS) Foundation. One hundred percent of the proceeds from the $35 shirt designed by Wes Gordon of Carolina Herrera in partnership with the official 2018 KTTC Ambassador, Julia Louis-Dreyfus, will go to support the non-profit organization. The AiRS Foundation works to provide women after a mastectomy with support, resources, education on surgical options, and the funds to help with the costs associated with breast reconstruction.
"I'm a breast cancer survivor, so that is a huge part of my involvement with Saks' Key To The Cure," said Louis-Dreyfus in a Saks Fifth Avenue press release. "I'm absolutely thrilled that the AiRS Foundation is the beneficiary of the sales of the limited-edition Key To The Cure t-shirt. Every penny from the T-shirt sales benefits the foundation, which helps women who are unable to afford breast reconstruction surgery post-mastectomy."
As you head into a new month of shopping, consider these styles and the products below. Not only will you gain a special piece, but your money will go directly to organizations making a difference in breast cancer research, prevention, and care.