How I've Managed To Wear A Black Turtleneck Every Day This Winter
@lauralajiness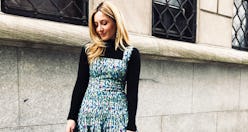 If you know me on a personal level — or, frankly, a moderately familiar level — then you know I live for a black turtleneck. The moment there's a slight chill in the air, you better believe I'm reaching for one — whether it's a fitted silhouette for layering, a cashmere pull to team with jeans and skirts, or an oversized knit to wear loosely over slip dresses, leggings, and slim pants. Every winter around this time, I hone in on a few key black turtleneck outfits that combine my most impactful cold-weather pieces and my winter pièce de résistance. But, if you're thinking that I've invariably run into black turtleneck fatigue by now, you'd be wrong. Instead, I'm emphatic about shaking things up and figuring out evermore ways in which my beloved black turtlenecks can be worn creatively throughout winter.
So, as a style challenge for myself and a method for which I can share my knitted noir expertise, I took my favorite black turtlenecks for a spin around New York City and culled a handful of foolproof outfits from influencers and street style stars alike as further inspiration. Read on as I decode these easy to recreate black turtleneck outfits and shop my edit of pieces you'll need to don each look on your own. If I've done my job, you'll realize that black turtlenecks are anything but boring and may just be penning your own ode to the knit by the end.
Utility Chic
It's my opinion that the most versatile black turtleneck out there is a fitted, mock-neck silhouette that you can repeatedly tuck, layer, and wear on its own. Right now, '70s vibes are all over the fashion circuit, so a ribbed style is a fresh take that brings a bit of texture and dimension to even the simplest of outfits. You can also go the bodysuit route for bunch-free layering.
This winter I'm stepping outside my feminine-leaning comfort zone, and testing chunky boots along with other less-sweet staples like utilitarian separates and sporty accessories. Which all led me to this look on Caroline Daur, which blends a ribbed turtleneck with what I like to call, "Dad"-inspired extras — honestly, who else wore a chunky gold chain in the '80s better than your father? Daur's fitted turtleneck tucks perfectly into her high-rise trousers (sans bunch!) and is expertly punctuated by a slick green jacket, nylon belt bag, and lug-sole boots.
Feminine Refresh
A fanciful look for a night at the ballet, I layered a body-skimming black turtleneck from LNA beneath my sleeveless frock and added white lace-up boots by Alexandre Birman, a satin blue bag from Barneys New York, and earrings from Monica Vinader to finish.
The dress's fitted bodice and full skirt makes for an ultra-feminine shape (it's lightly padded around the hips to give the illusion of an hourglass figure) with a print that's a refreshingly fun alternative to seasonal green, red, and gold. Prepare to see me in this getup sans turtleneck once the weather warms.
Spot On
Leopard may have had a major moment in 2018, but the motif is iconic and impeccably bold in the form of a suit for 2019, as proven by influencer and co-founder of the affordable plus-size label Premme, Gabi Gregg. And what better to temper such a look than a black turtleneck? With glossy patent boots and eye-catching earrings, this look is a must-try for myriad occasions (personally, I'm feeling a daring take on office attire).
Tailor Made
I'm very much after more sharp suiting in 2019 and this nostalgic set perfectly captures a '90s spirit without feeling too literal and outdated. I find that tailored suits can feel too stuffy for my regular day-to-day, but with a simple black turtleneck and nipped square-toe boots, the result appears effortless and smart. For a similarly sharp but slightly more streetwise vibe, consider a boiler suit with utilitarian detail.
Re-Worked For Work
I'm very much a skirt and dress person, so stepping up my pant game has been another big focus for me. I'm also trying to wear more color, especially with work-appropriate pieces. Enter: these checked wool trousers from Sea with a feminine white button-down shirt, anchored by a fitted black turtleneck (I'd recommend a bodysuit version for seamless layering) for added warmth. Golden suede boots lend an extra punch of color while an ivory Loewe hammock bag ties it all together without feeling overly tonal.
Rainbow Effect
I've been on the receiving end of much grief for wearing a black turtleneck for drinks, date nights, and dinners out with friends. But when you find a fitted silhouette that highlights your shape — and team it with a killer pair of jeans or a feminine skirt — the effect is achingly chic, as proven by plus-size influencer, Gess Pugh. Rather than go the safe route with the later, a splashy stripe stands out amongst muted neutrals in winter while minimal accessories like a barely-there sandal, croc-effect bag, and pendant earrings let the statement piece shine.
Corporate Cozy
Come January, there are far too many days where achieving peak cozy is the only outfit goal; unsurprisingly, a black turtleneck is the first piece I reach for (particularly a chunky cable knit in the most frigid of temps). One of the easiest ways to make basic items like a black turtleneck feel standout is with outerwear and as stylist Alexandra Carl exemplifies, a shearling coat is the coziest style out there. To keep things polished and professional, a colorfully checked trouser is an instant hit on bottom while simple boots, a unique black tote, and gold drop earrings are effortless accents.
Fancy Pants
As I said above, pants (particularly fancy ones) are slowly taking up prime spots in my lineup as of late and this turquoise pair from Sies Marjan has been awaiting its debut. Troubled with what to wear them with initially for a low-key luxe effect, it was my beloved black turtleneck that came to the rescue (few items in my wardrobe felt as easy with these green-with-a-sheen pants). Topping the look with a navy and green plaid blazer from Aritzia and rhinestone earrings (I kid you not, I found these on Amazon!), I felt perfectly festive for after-work drinks in December. Post-holidays, I'll swap my sparkling earrings for an artsier pair with beads.
Rain, Rain, Come My Way
I hate the rain. At the first sight of a drizzle, I find any and all excuses to skip yoga, cancel dinner plans, and retreat to my bedroom for Netflix and snuggles with my pup. If I have to subject myself to rainfall, I'm lucky if I can muster a pair of waterproof shoes to team with my trusty black turtleneck. But as editor Claire Beermann proves, a stylish rain jacket can really turn things around in the outfit department. Inspired by her combo of loosely tailored pants, a printed bag, and soak-free footwear, I'm practically willing a torrential downpour my way (okay, not really — but at least I won't be bemoaning the next rainstorm).