The Top Drunk Elephant Products That Our Editors Swear By
Craig Barritt/Getty Images Entertainment/Getty Images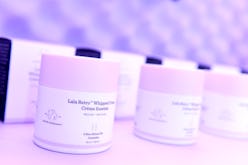 As a beauty editor, there's one question that friends, family members, readers, and random revelers at the bar always ask me — does Drunk Elephant actually work? In short: yes. Absolutely, yes. Despite the myriad of skin concerns that plague everyone from young to old (like hyperpigmentation, dryness, and stubborn acne), there's a top-rated Drunk Elephant product for just about everyone.
The globally coveted line, founded by Tiffany Masterson in 2012, isn't just wrapped in pretty packaging (although, TBH, it does make my top shelf look pretty damn good). All products are free of what the brand calls the "Suspicious 6:" essential oils, silicones, drying alcohols, chemical sunscreens, fragrance, and sodium lauryl sulfate — ingredients that aren't necessarily problematic for all skin types, but generally suggested to be avoided for those with sensitivities. "Masterson and her team have identified several 'problem' ingredients that are commonly included in skincare products and actively avoid them," as they're all "common causes of irritation," Dr. Heather Rogers, MD, a Seattle-based dermatologist unaffiliated with the brand, told us in 2019.
My fellow Zoe Report editors are just as in love with the brand as I am, and collectively, we've tried just about every product in the line. Ahead, hear our no-frills reviews for some of the best offerings from DE.
We only include products that have been independently selected by The Zoe Report's editorial team. However, we may receive a portion of sales if you purchase a product through a link in this article.
Anna Buckman, Shopping News Editor
Favorite Drunk Elephant Product: Lala Retro Whipped Cream
Skin Type: Extremely dry, sensitive, and prone to redness.
Why She Loves It: "A colleague recommended it to me once when I was struggling with some stubborn dry patches on my face. It's gentle enough for my sensitive skin, and it actually hydrates even during the coldest parts of winter when not much else does."
Lauren Caruso, Site Director
Favorite Drunk Elephant product: C-Firma Day Serum
Skin Type: Normal with an oily T-zone.
Why She Loves It: "I love this for its ability to brighten my skin, even in the deadest of winters. I started using it when I ran out of my other go-to vitamin C serum and have loved it ever since. It brightens and evens my skin tone. It gives a slight dewy glow under makeup, too."
Angela Melero, Deputy Editor
Favorite Drunk Elephant Product: F-Balm Electrolyte Waterfacial
Skin Type: Normal, but prone to blemish scarring and the occasional dry patch.
Why She Loves It: "It keeps my skin super hydrated and helps me wake up with soft, glowy skin."
Aemilia Madden, Senior Fashion Editor
Favorite Drunk Elephant Product: A-Passoni Retinol Cream
Skin Type: Dry
Why She Loves It: "It's easy to incorporate into my routine, I like the difference I've noticed after using it for a short amount of time."
Shelby Hyde, Freelance Editor
Favorite Drunk Elephant Product: Slaai Makeup-Melting Butter Cleanser
Skin Type: Combination
Why She Loves It: "This cleanser is a fixture in my medicine cabinet because it's really easy to use, especially for someone like myself, who often waits to the last minute to remove my makeup. It leaves my skin glowing and when followed up with micellar water, is a great alternative to a deep cleanse after a long day."
Kelsey Stewart, Freelancer
Favorite Drunk Elephant Product: T.L.C. Framboos Glycolic Night Serum
Skin Type: Combination, but more on the dry end.
Why She Loves It: "It helps my dry skin look smoother and brighter, especially during the winter months."
Blake Newby, Writer
Favorite Drunk Elephant Product: T.L.C. Sukari Baby Facial
Skin Type: Combination with an oily T-zone.
Why She Loves It: "I have skin with a high-tolerance, which I'd dare to say is a must for the Baby Facial. Right before my monthly cycle, I apply this to my skin for 15 minutes to combat those dreaded chin breakouts. It works like a charm. My skin is more radiant, and those bumps are much-less prevalent."
Khalea Underwood, Beauty Editor
Favorite Drunk Elephant Product: Sili Body Lotion
Skin Type: Normal(-ish... my T-zone tends to shine brighter in warm weather)
Why She Loves It: Like the rest of the world, I've been washing my hands at an excessive rate. My fancy creams are nice, but sometimes can be too fragrant. I like this lotion because it isn't too heavy, the smell isn't too cloying, and the bottle is big enough for me to not feel bad about reapplying all day long.