This Unexpected Color Keeps Showing Up In Bella Hadid & Sara Sampaio's Wardrobes
Timur Emek/Getty Images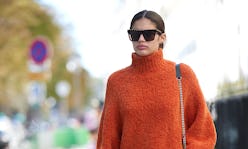 Centering an outfit around a bold color isn't particularly easy, especially if you aren't used to experimenting with brighter shades in your wardrobe. As the weather gets colder and darker, it's likely that your clothing choices will blindly follow suit. But the likes of Bella Hadid, Sara Sampaio, and Kendall Jenner have offered surprisingly wearable orange outfit ideas in an effort to brighten up the season's traditional hues.
Other than its association with Halloween, orange isn't a typical hue for fall. Cold-weather season is usually paired with autumnal tones like olive green or burgundy, with neutral knits (think: creams, grays, and blacks) following closely behind. But after taking a peek at the following celebrity outfits, you may just be inspired to incorporate some orange into your wardrobe this season. Ahead, The Zoe Reports favorite orange outfit inspiration, as well as the best pieces the shop right now.
Bella Hadid
Hadid was photographed strolling the streets of New York City on Oct. 8 wearing a minimalist, yet extremely fashionable, version of the vibrant tone. The 22-year-old model paired a slouchy, orange turtleneck sweater dress with chunky patent-leather boots and a matching shoulder bag. As per her usual style, Hadid slicked her hair back into an elegant bun, which she tucked behind a pair of gold hoops.
Sara Sampaio
Sampaio tried out the trend during Paris Fashion Week. Much like her fellow Victoria's Secret model, Sampaio opted for an orange turtleneck sweater dress. She paired the bulky knit with olive-green ankle boots and a matching crossbody bag. Sampaio topped off the look with a sleek bun and vintage-inspired sunglasses.
Kendall Jenner
Jenner used Bella Hadid's birthday part on Oct. 9 as the perfect excuse to try out the trend herself. The 22-year-old paired a bright-orange turtleneck with flared leather pants featuring a lace-up waist and zipper detailing. The model paired the bold-toned top with matching earrings, tying together look with snakeskin boots.
Now that you've seen the looks for yourself, you'll be thrilled to learn that recreating each outfit is much easier than it seems. All you'll need is a single orange piece to base your entire look off of. Shop The Zoe Report's favorite orange staples to add to your fall wardrobe immediately.
Shop The Look