8 Eco-Friendly Sheet Masks Perfect For A Weekend In
Anna Webber/Getty Images Entertainment/Getty Images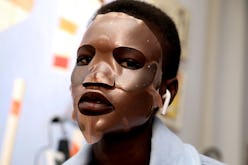 I interrupt your regularly scheduled self-care regimen to bring you a very important recommendation: Skip the sheet masking sesh. Sure, slapping on a single-use sheet mask may be simultaneously skin-soothing and selfie-worthy — but it's not the most sustainable habit. That doesn't mean you have to stop using them altogether, though. Just opt for an eco-friendly sheet mask instead, and self-care Sunday — along with the planet — is saved. Kind of.
According to Reuters, the face mask market will be worth over $11 billion by 2025, a 10 percent increase from 2018. Sheet masks are no doubt a significant portion of that pie, and why wouldn't they be? They're cheap, they're convenient, they're quick. But as with most products that check those boxes — makeup wipes, coffee pods, plastic bags — they generate more waste than they're worth. I mean, consider all the material associated with one disposable sheet mask: A plastic or foil packet, a plastic sheet or two inside to guard the mask, and the mask itself (and that's not even counting shipping supplies for online orders). The outer layers can sometimes be recycled, but the serum-soaked mask almost always ends up in the trash.
There aren't any specific numbers available on sheet mask waste, but there are numbers available on makeup wipes, which serve a similar purpose (one-and-done skincare) and are made up of similar materials. Approximately 20 million makeup wipes are thrown away every day, as reported by Bustle, and can take hundreds of years to break down in a landfill. Conservatively assuming sheet masks are used just 5 percent as often as makeup wipes, that's still a million masks tossed in the trash daily.
Obviously, that affects the environment — but it also affects your skin health. Trash contributes to pollution, and pollution particles contribute to accelerated aging, acne, dryness, and hyperpigmentation.
So, what to do about it? Make the switch to biodegradable sheet masks, STAT. This classification means the mask will break down and absorb into the earth after it's thrown away, almost as if it was never even there, so long as it's disposed of properly. Extra points for those packaged in easily-recycled cardboard instead of plastic.
Ahead, eight sheet masks to make your skincare routine that much more sustainable.
Shop Eco-Friendly Sheet Masks