Target's Storage Sale Is The Easiest (& Most Affordable) Solution For Messy Closets
Target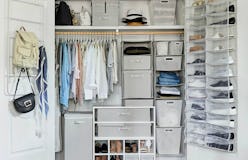 Dear anyone who decided to re-organize their closet on Jan. 1 and is now surrounded by piles of clothing, days later: the Target storage sale has wardrobe organizers and closet storage pieces under $50. Yes, you could figure out a way to fold all of your pants to pristinely fit onto your one available shelf... or you could buy a five-tiered pants hanger to organize them, wrinkle-free, for less than $7. Need one more reason to shop the sale? You can use the promo code HOME to save an additional 10 percent.
Now, you may be thinking that your closet needs more help than a clothes hanger could provide — even a cleverly designed one, like the aforementioned 5-tiered pants hanger on sale for $6.30. As always, Target's home goods are here to save the day. You can buy an entire freestanding closet unit, complete with four shelves and a garment rod, for only $16.19 using the promo code HOME. Originally $17.99, the unit comes with four shelves and one garment rod for hanging your pieces.
The basic black unit may not thrill non-minimalists, though. Anyone who's spent enough time browsing clothing organization tips on Pinterest has come across stylish — and super expensive — garment tracks, and it's hard to settle for anything over than one. The white, angular Dual Shelf Garment Rack is pretty enough for an Instagram photoshoot, and only retails for $43.19 during the sale. Even if your clothing collection far exceeds the amount of space you have in your city apartment (looking to you, New York fashion lovers), just buy as many of the regularly $47.99 racks as you need; the pale color scheme and modern shape will only add to your room's decor scheme.
You may just need a few baskets to make over your closet. Buy a couple rustic wicker baskets on sale at $15.30 from $19.99 for shoes and accessories, or these white cotton baskets marked down to $10.52 from $12.99 for softer clothing. While a common trick is dividing shirts and pants into decorative storage to keep on your closet's top shelf, stow a basket on the floor, too; use it hideaway the inevitable clutter that accumulates on any closet floor over time.
Target's storage sale ends Jan. 19, so you do have plenty of time to plan out your dream closet. Ahead, eight closet-organizing pieces from the sale to jumpstart your strategy.