8 Under-$10 Mascaras That Celeb Makeup Artists Swear By
Andreas Rentz/Getty Images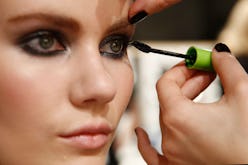 Target runs aren't aptly named. It's a truth universally acknowledged that nobody actually "runs" into Target for one item without leaving with a basketful of snacks, a pair of leggings, a cute sweater dress (on sale!), and a couple of new beauty products in tow. Nothing beats a good mascara haul, though. Some of the best mascaras are from the drugstore, and the proof is in the numbers.
According to a 2013 study from Mint, a woman spends $15,000 on beauty products in her lifetime. $3,770 of that cash is spent on mascara. And really, it's with good reason: A couple swipes of the right formula doesn't just transform your eyes and make you look more awake — it changes your entire face.
Mascara matters. That doesn't mean that you have to spend thousands of dollars in one visit on it... and all of the pros know it, too. Andrea Tiller (who's worked with Ashley Tisdale), Gita Bass (who works with Tina Fey), makeup artist Mirna Jose, and Neutrogena Cosmetics brand ambassador and celebrity makeup artist Amy Oresman gave TZR the scoop on the favorite budget formulas that are constant staples in their kits. See them ahead of your next Target run... or, uhh, marathon.