The Under-The-Radar Jewelry Brands You Should Know Before They're Everywhere
Nathalie Schreckenberg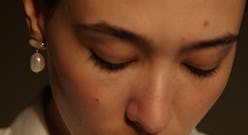 An easy way to freshen up your look for summer? A new piece of jewelry, of course. That said, while these days there are seemingly endless places to shop for a new bauble, it can take some time to find a special piece that you haven't already spotted on your fellow fashion-minded friend or all over Instagram. But, lucky for you, a group of cool, under-the-radar jewelry brands have been rounded up below, so next time you'll be the one to receive a "where'd you get that?" from your style-savvy group of friends.
From modern, minimal silhouettes to eye-catching statement-makers, there's a style for every aesthetic in the mix. And — unlike many brands that pop up on your Instagram feed every couple of posts — these haven't *quite* hit that status yet, which makes it a little easier to snag a piece that everyone else doesn't already have. Continue on to see and shop seven brands to wear before everyone else.
Arctic Fox & Co.
Noted on its Instagram to be "inspired by all things Icelandic and Scandinavian," Arctic Fox & Co.'s collection this season is inspired by nature. So, if you're eager to bring more pearl pieces and shell-adorned styles into your jewelry box, this is the brand for you.
Nathalie Schreckenberg
For those who gravitate toward clean, minimal designs and are partial to silver over gold, Nathalie Schreckenberg may become your new go-to designer. Handcrafted in Barcelona, the all-silver jewelry line features a range of styles that showcase how simple, natural shapes can still make an impact.
Heritage Jewelry
Founded in 2016 by Elizabeth Bonner and Lilly Weekes, Heritage Jewelry's pieces are all made by hand in New York City and blend a playful, modern look with the sentimental feel of a family heirloom.
Noor Shamma
Made in New York City, Noor Shamma's pieces are easy-to-wear, elegant designs that bring a contemporary artistic feel to timeless silhouettes: think everyday earrings with modern, geometric designs and delicate rings in interesting shapes.
NOUR Jewelry
If you're after dainty, versatile styles, make NOUR Jewelry your first stop. The direct-to-consumer brand uses 14K solid gold for all of its pieces, and in some designs you'll even see high-quality diamonds. The best part? These simple fine jewelry styles all ring in for a price that won't break the bank.
Sutun
Created by Yasmine Farimani and Martina Tolot, Sutun is where you will find a range of eye-catching, unique earrings that'll add a dose of something special to any outfit. To top it off, these danglers are all incredibly affordable.
STVDIO
Launched in 2014 by jeweler and designer Erica Peterson, this Brooklyn-based jewelry line serves up bold silhouettes that are sure to garner many a compliment. And, while it does have the largest Instagram following of the bunch, this brand may not yet be one you've bookmarked — that is, until now.