Instagram Is Obsessed With These Boot Brands — & You're About To Be, Too
Dear Frances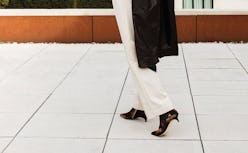 Although scrolling through Instagram is occasionally seen as a mindless activity, you can't deny that it's one of the best ways to discover new trends, designers, and of course, sartorial inspiration. And when you think about it that way, falling down an Instagram rabbit hole can be perceived as research, right? Whether it's through their own accounts or those of your favorite fashion girls, there's a good chance you've seen some trendy boot brands pop up on your feed more than once — which means it's time to officially put them on your radar.
In the many years Instagram has been around, the social media platform has grown from a simple photo-sharing app to the go-to hub for brands to share their latest products with avid shoppers like you. Right now, there's a virtually infinite amount of brands on the platform, but if you've been keenly aware of what boot brands It girls and editors are wearing — as well as every other fashion lover — you'll start to notice which ones are about to be everywhere (that is, if they aren't already).
Below, you'll find the seven boot brands that are having a major moment on Instagram right now.
Labucq
Lauren Bucquet founded her direct-to-consumer brand Labucq in October 2018, and in the short span of 10 months, the shoe designer's brand has quickly become a favorite among fashion girls and editors. With cool takes on classic styles — along with an ultra-comfortable fit — these boots will be your go-to styles for any occasion.
Wandler
You've probably stumbled across one of Wandler's It girl-approved bags on Instagram, and there's no doubt its shoes are just as chic. Go for one of the brand's Lina Boots and wear them with everything you own.
Dear Frances
When it comes to timeless boots that still feel trendy, you can count on Dear Frances. The footwear brand was founded with the mission to create classic, luxury-made pieces for the modern woman, and it certainly does not disappoint. With styles like its $595 Kit Boot, this is one brand that'll keep you coming back.
MANU Atelier
If you've been eyeing the lace-up boot trend for fall, you'll want to have accessories brand MANU Atelier on your radar. Founded by two sisters who strive to highlight their father's craftsmanship in leather goods, MANU Atelier has well-made pieces for the modern woman. The brand's Duck Lace-Up Boots, $545, have already been seen on stylish influencers, which means it's only getting started.
Reike Nen
Looking for something unexpected? Opt for a pair of Reike Nen's boots. With pieces featuring unique details such as woven trim or ruching, these are the shoes that'll be conversation starters.
Rejina Pyo
Chances are you've come across Rejina Pyo at some point on your Instagram feed. The London-based designer incorporates architectural designs into each piece of her namesake label — including the shoes. For modern updates on easy, everyday styles, this is the brand to shop.
Tamara Mellon
If there's one word to describe Tamara Mellon's shoes, it's "sexy." Fashion editors and It girls have been wearing this chic brand's timeless styles, and their boots are right in line. Whether it's a pair of tall leather boots or a mid-height leopard-print style, the designer shoe label's pieces will instantly elevate any outfit. And with new styles constantly coming out, you'll never run out of options.