This Stunning Shoe Brand Just Landed At Net-A-Porter & You Need It In Your Closet, Stat
Emme Parsons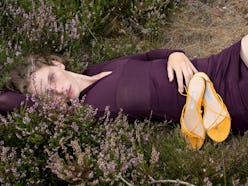 As you may have already noticed, this time of year calls for a virtually endless series of summer sales. And as you continue stocking up on summer must-haves and everyday basics, you're probably cleaning out your wardrobe to make room for those new pieces at the same time. Just in case you have a bit of extra room once you've finished, there are a handful of new shoe brands at Net-A-Porter worth adding into your closet — and once you seem them, you'll want to, stat.
It's no secret that a single pair of shoes — like any other accessory — has the power to instantly transform your outfit. Whether you decide to style a set of heels with a casual dress or opt for sneakers, or wear ankle boots with sleek jeans rather than pumps, the shoes you choose can dictate the aesthetic of your ensemble. If you're looking to broaden your range of options, Net-A-Porter's roundup of its latest arrivals is the perfect place to discover new designers.
Below, you'll find the seven of the latest footwear brands to join the ranks of the online retailer. Scroll down to learn about them all below.
both
With unconventional beginnings as a rubber company, both explores the endless possibilities of the natural material. Sourcing its rubber from trees in Southeast Asia, the brand creates eclectic-but-minimal footwear that provides a sophisticated look.
Loro Piana
Italian clothing company Loro Piana — which was founded in 1924 — is known for creating sleek and minimal everyday staples in luxe fabrics like suede. You'll find classic silhouettes such as loafers and sneakers among the brand's offerings.
Studio Amelia
If you're loving the barely-there sandal trend that's been everywhere lately, you'll obsess over Studio Amelia. The shoe brand was created out of founder Emily Inglis' desire to have an elegant and contemporary sandal — and that's exactly what you'll get.
Emme Parsons
Another designer with polished "naked" sandals, Los Angeles-based Emme Parsons focuses on functionality and clean lines. Its shoes, which are handmade in Italy, are designed to be a timeless pair in your collection and worn at all times.
Antolina
Inspired by the founder Mariela Schwarz Montiel's native Paraguay, Antolina offers sandals and heels perfect for your next vacation. Each of these styles featuring hand-braided cotton, which is part of Montiel's efforts to preserve the country's traditional weaving techniques.
Charvet
Paris-based label Charvet first became known for its high-quality men's shirting. As it begins its first venture into womenswear, the brand has created luxurious leather and suede slippers that will pair well with wide-leg trousers or cropped jeans.
aeyde
Founded in 2015, Berlin-based shoe brand aeyde prioritizes design and quality before everything else. As a result, the small team of aeyde creates modern, distinct — yet versatile — shoes that will fit seamlessly into anyone's wardrobe.