This New Lipstick At Ulta Leaves The Subtlest Hint Of Pink (& Moisturizes, Too)
ImaxTree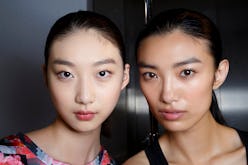 If you found yourself down to your last twist of lipstick at the end of the year, there's no better time to start shopping fresh shades from the new lipsticks at Ulta. The beauty destination's latest arrivals feature a range of fresh hues from barely-there pinks to bright reds that'll make replenishing your classic colors a cinch. Not only will you be able to scoop up a few lipsticks before Valentine's Day, but you can grab all those essential shades you end up turning to time and time again.
For all the lipstick lovers who are having trouble keeping their pout hydrated in the cooler months, a moisturizing lipstick is your best bet. And, as luck would have it, within Ulta's new offerings are several products that promise to prevent dry lips, including the moisturizing lipstick from Ofra Cosmetics that's enriched with Vitamin E. Coming in a sleek white tube for $13, the rose shade will give you the touch of color you're seeking during the dreary days of winter.
As for those shoppers who are on the hunt for a light pink but want a noticeable pop of color? Pick up a tube of the Golden Gatsby Pop Up Lipstick from LASplash Cosmetics in Dusty Rose for $16. The go-with-everything pink will give your pout definition while keeping your look natural.
In the market for a new shade a red? Try out Estée Lauder's Pure Color Love Lipstick Heart Edition for $22.50; it'll be the perfect addition to your Valentine's Day look. Or, pick up a tube of bold matte red from Milani for $6.99. This timeless true red lipstick will provide the coverage you're looking for while keeping your lips hydrated with Monoi Oil.
Don't wait until the day of an event to realize you're all out of your go-to lip colors. Ahead are a handful of new lipsticks available at Ulta to add to your cart. Continue on to find a few new shades that suit your style.