7 Last-Minute Halloween Costumes That Require Little To No Effort
Ricky Vigil/GC Images/Getty Images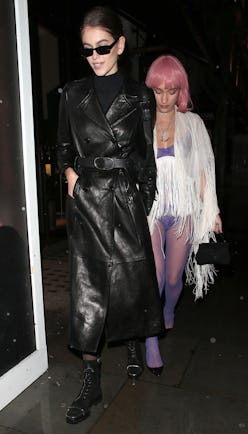 Halloween is almost here, and if you've yet to decide on your costume you may be starting to feel the pressure. That said, there's no need to stress, because even with the time-crunch you can still pull together a stylish last-minute Halloween costume with little to no effort. So, whether you're handing out candy, hosting a dinner party, or heading to a bash, all you need to get started in crafting your costume is a little inspiration.
Before you pull out the glue-gun to do some DIY or go spending a fortune on the latest trendy costume (that'll inevitable end up getting tossed in your closet after never to be seen again), take a hard look at your own wardrobe. It's likely there are pieces you own already that you can use to help bring your costume to life.
Of course, if you're going to make a purchase, you might as well put the money towards an item you'll actually wear beyond the holiday. So, if you're keen on one of the ideas below and find you're lacking the key component, you can shop a piece that'll not only complete your Halloween ensemble but make for a nice addition to your wardrobe, too.
Detective
A classic trench can easily make for a chic detective costume — making for a perfect last-minute look if dressing up for Halloween isn't really your thing. Not to mention, you probably already have one or two in your arsenal. Try opting for a sleek black leather option for a little more edge.
School Girl
Break out your plaid and collared shirts for a classic school girl look. You could throw it back to Gossip Girl by adding a headband (hello, Blair Waldorf), or bring in more bold unexpected colors and have a Cher Horowitz moment. Either way you go, the key to kicking off this look is the mini-skirt.
Leopard
With leopard being a major print for the last few seasons you likely already have a piece or two you can put together to create this costume. Finish off your jungle cat look by adding a few whiskers to your cheeks or a chic headband.
Flapper
Come Halloween, you'll be twirling the night away in this playful fringe dress. As for post festivities? Slip a thin black turtleneck underneath and add a pair of black knee-high boots for a chic holiday party outfit.
Cowgirl
Tuck a western style shirt into your favorite pair of worn in denim and you're ready for the rodeo. If you do have a set of cowboy boots in your lineup already be sure to slip those on, and add a bandana around your neck to top it off.
Witch
If you love a classic spooky Halloween costume you can't go wrong with a witch, and all you really need is a black lacey frock. As for the rest of the costume? You can complete the wicked look with makeup: give yourself a smoky eye and add a deep burgundy lipstick to your pout.
Fitness Instructor
If comfort is key when it comes to your Halloween costumes, then, why don't you use the occasion as a reason to scoop up more workout-wear to channel your favorite fitness instructor. You can go for peaceful yoga vibes with a soft color palette, or you can opt for vibrant pieces for a more high-intensity class (you know, the ones where they wear head-sets).
This article was originally published on