These 7 Lipstick Shades Are Celebrity-Approved & Perfect For The Holidays
Stephen Lovekin/Shutterstock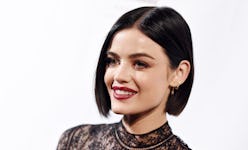 There's something about the holiday season that makes you want to whip up a new recipe, perfect a DIY cocktail, or even experiment with that makeup look you thought you'd never pull off. This season, why not act on the latter and refresh your go-to beauty routine with a little help from your favorite celebrities? If you don't know where to start, give your everyday lip look a quick upgrade with a celebrity-inspired lipstick color.
Whether you're going to a formal dinner, a holiday happy hour, or heading home for a few days of family fun, lipstick can be the easiest (and smallest) style statement to bring along in your purse, pocket, or carry on. Liven up a simple outfit with a swipe of a bold color, or pump up the volume on an already dazzling look with a shiny gloss. Ahead, six celebrity lipstick moments you'll want to recreate immediately, including Meghan Markle's iconic pink, Lucy Hale's rich cranberry, and more.
Rosy Nude
The Duchess of Sussex is known for her low-maintenance beauty routine. Although she reportedly prefers to stay away from red lipstick, she isn't afraid to add a little color to her pout with soft-pink hues. According to Glamour, Markle's go-to lip color is a dusty rose by Charlotte Tilburry. If you're planning on experimenting with a brightly colored dress for a family dinner this holiday season, downplay your makeup with a color that enhances your lips' natural tone à la Markle.
Shop The Look
Rich Cranberry
Lucy Hale loves to experiment with fashion trends, daring hairstyles, and of course, bold makeup choices. She was recently photographed backstage at a New York Fashion Week show wearing a deep, burgundy lipstick. She kept the rest of the look simple by feathering out her famous full brows, and slicking down her choppy bob into a side part. While red clothing seems to be everywhere this time of year, it can be hard to choose a lip shade that complements the bold color without taking away from it. That's where Hale's pick comes into play.
Shop The Look
Warm Brick
Ashley Graham's copper-toned lipstick acts as the perfect finishing touch against dewy skin. Amplify your natural glow for a more casual holiday obligation (like an office potluck) with the help of a creamy bronzer, liquid highlighter, and a sheer, amber gloss. For the ultimate Graham-approved look, pair your makeup with a half-up ponytail, gold hoop earrings, and a snakeskin dress.
Shop The Look
Deep Brown
As Winnnie Harlow shows so well, a deep-brown lipstick is the perfect combination of edgy and elevated — it's bold enough to earn a few compliments at dinner, but it won't make your relatives double take. If you plan on going for a shimmery gold or neutral smoky eye, this lip color will act as the perfect finishing touch.
Shop The Look
Barely There
The holiday season is the perfect time to experiment with a dark smoky eye and a barely there lip — just ask Emily Ratajkowski. Add a little glamour to your winter look with a faux-fur coat, leather pants, and smoldering eyeshadow. If you're new to the idea of a bold eye, start small by making it the focus of your look and keeping your lips ultra neutral.
Shop The Look
Petal Pink
Kate Middleton tends to go for a soft look when it comes to her makeup choices, and this delicate pink is a prime example. A muted version of a natural-looking lip color, this shade makes her piercing blue eyes pop. No matter your eye color, everyone needs a soft-pink lipstick in their beauty stash, especially with the holidays approaching.
Shop The Look
Cherry Red
Make like Olivia Munn and go bold with a super-red lip. Although the holidays usually call for deeper hues, this bright cherry is just as appropriate. Begin by lining your lips with the decadent shade, but use a light pink towards the center for a touch of dimension.
Shop The Look