61 Fascinating Products With Thousands Of Glowing Amazon Reviews
Nicholas Hunt/Getty Images Entertainment/Getty Images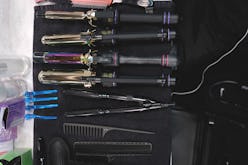 While Amazon is great for many things — Prime video, fast shipping, their ever-expanding fashion marketplace — nothing compares to their unparalleled selection of random, but brilliant life-enhancing products: the types of things you didn't know you needed, but can't imaging living without once you discover them. The only issue? Finding said products can be a time-consuming process — and with so many items to choose from, it can be difficult to separate the truly excellent from the just-okay. But that's where this shopping guide comes in. Ahead, you'll find 61 fascinating products with thousands of glowing Amazon reviews that vouch for their quality, effectiveness, and ability to make life a little bit easier (or at the very least, more interesting).
The products on this list span the categories of self care, cooking, travel, tech, and home — but they do have one thing in common: thousands of glowing reviews from Amazon shoppers like yourself. They're each fascinating in their own way, and most of them are eligible for Prime shipping, too — so if you're eager to try them out for yourself, know that they can be delivered to your doorstep in a matter of just a few days.
Scroll on to discover 61 of the most fascinating products on Amazon right now.