The Accessory That Can Transform A Basic Outfit In 1 Minute Flat
@bettinalooney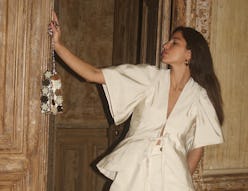 There are times and places for simple, unassuming bags. One might even argue that the majority of dressing situations — work, errands, anytime you're lugging around more than just the bare necessities — calls for such a practical option. However, basic is not what summer 2019's bag trends are serving up. Instead, on the heels of last year's obsession with all things nature-made (basket bags and a slew of woven, raffia options that continue to be popular), this year it's hard to keep track of all the unabashedly bold styles that have traveled from the runway to retail.
Looking at the newest arrivals for summer, there are a few distinct categories that are dominating the field, including fabrications in unconventional materials and silhouettes. Many styles are small but bold enough to dictate an entire outfit to wear with it, as well as pieces with details so distinctive they teeter between accessory and artwork.
The only thing feathery pouches from Dauphinette, mega-fringed clutches from Rachel Comey, and a mesh moment from Prada have in common is that they leave no excuses for sticking with a boring bag all season long. There's no fun in that anyway. Below, peruse six of the most unique trends that unapologetically stand out.
Tied Up In Knots
This trend takes cues from Japanese Furoshiki bags, a style of carryalls that are created through fabrics wrapping. And while technically a Furoshiki bag can come together with a scarf and a simple Youtube DIY, brands like Nanushka and Emily Levine are putting their own spin on relaxed shape with beautiful satin materials and interesting wooden details.
Just Like Jewelry
It's not enough to adorn your eyes or wrists with pearls, beads, and crystals. Instead, feel free to carry the jewelry box with you in styles from Paco Rabanne, Vanina, and Truss that make unique options for evening bags, as well as surprising alternatives for an everyday outfit (one that ideally doesn't require you to carry much around).
Cast Your Net
While woven market bags have grown in popularity over the last couple years, the latest versions are a little less transparent and a little more focused on eye-catching textures as seen at Charles and Keith and printed fabrics that peek from the netted exteriors, such as from Prada and My Beach Side.
Fully Grown Fringe
Fringe is the kind of trend that's never truly "out." It's sometimes a bit more subdued (such as a raw hem) or ties into a bigger fashion theme (such as Western style), but for summer all fringe has one thing in common: It's a lot. This includes everything from a colorful patchwork of trimmings on Rachel Comey clutches, Jacquemus' ironically lengthy fringe on its signature mini bags, or rows of beaded tassels among Rosantica's latest designs.
Flashy Feathers
Plumes might have played a big role on the red carpet of the Met Gala's Camp evening, but that was not an isolated incident. Not only are feathered handbags a recurring theme among current collections, but as seen in the collections of Loeffler Randall, Marques Almeida, and Dauphinette, the more wildly colorful the better.
The Plastics
Resin and plastic have had a strong presence in fashion when it comes to hair clips, jewelry, and, of course, handbags. And the trend shows no signs of slowing down as summer's latest styles from Cult Gaia, Valet Studio, and Topshop can attest. This time around, plastic is put on display in a number of unique ways with vintage-inspired silhouettes, bright colorways, and chained-together geometric shapes topping the list.