This Engagement Ring Shopping Mistake Could Lead You To Overspend
Chris Jackson/Chris Jackson Collection/Getty Images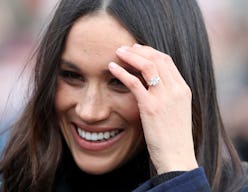 Shopping for an engagement ring can be one of the most exhilarating, exhausting, terrifying, and, quite frankly, expensive experiences of one's life. And whether your ideal style is a massive sparkler or you're into more minimal engagement ring ideas, arming yourself with the proper engagement ring shopping advice — including mistakes to avoid is essential. Making a truly informed decision for your forever ring goes a bit beyond investigating the 4Cs (otherwise known as carat, cut, clarity, and color). But between online retailers, independent designers, and high-end luxury jewelers, the journey to saying "I do" to the right jewel can be overwhelming and riddled with easily avoidable mistakes.
Like with any major purchase, don't underestimate the importance of seeking proper certification. Ensuring that your engagement ring comes with its GIA (Gemological Institute of America) certificate is non-negotiable, but relying solely on this piece of paper to justify your purchase is a misstep. "As important as it is to buy a diamond with a GIA certificate, the certificate is just a supplement to the diamond to assure that you are getting exactly what you paid for," explains Olivia Landau, founder and CEO of The Clear Cut, who herself is a GIA Graduate Gemologist. Similarly, setting a strict budget or shopping only at luxury retailers may sound like a solid game plan, but, in fact, you might be setting yourself up for a less cost-effective ring.
Navigating the world of high-priced stones takes patience, knowledge, and assistance, but thankfully you can spot issues before they arise if you know what mistakes to look out for and how to plan around them. Ahead, engagement ring experts ranging from online retailers to custom jewelry makers weigh in on the most glaring engagement ring shopping mistakes to avoid and how to shop the market like a seasoned pro.
Don't: Go At It Alone
The chances of finding the right pick are greatly increased when you employ a method from your childhood — the buddy system. Yes, you can get better buys with a little help from your friends, but the same can be said for a trusted retailer, knowledgeable jeweler — or even your soon-to-be fiancé. The experts overwhelmingly agree that attempting the daunting task of choosing an engagement ring without the help of someone who either knows your beloved well or, just as importantly, understands the industry, is a big mistake. "You need to find a retailer who can be your partner in the process," offers Anna-Mieke Anderson, founder of Portland-based socially responsible bridal jewelry line MiaDonna. "You want to feel like they are working on your behalf and are your advocate for finding the best quality ring at the best price."
Building a relationship with a jeweler can not only better inform the buying process, it can save you time and money. Corina Madilian, co-founder of Single Stone, an original collection of heirloom quality fine jewelry implores, "The guidance of an experienced, trusted jeweler is very valuable and can't be replaced with a few weeks of online education. Most consumers don't realize that a relationship with a good jeweler is for many years to come."
With the help of a jeweler you trust, the picking process can be much smoother — no matter how you and your partner choose to go about it. "Most of our clients come to us together to collaborate on the ring. Some couples even both contribute towards the ring financially," continues Landau. "For those who are a bit more traditional and want to shop alone, make sure you come with clear directions for the type of diamond and style of ring your partner is interested in. If they haven't dropped any specifics hints, consult family or friends and take a look at some recent Instagram likes or Pinterest pins."
Of course, for those of us who still seek the thrill of an unplanned proposal, there's a way to ensure money is well spent — focus on the diamond. "Put all your time and effort into choosing the perfect diamond and set it into a very simple solitaire setting. Then, after you propose you can both choose a setting together. Most of the time the retailer will credit back the solitaire setting cost," advises Anderson.
Don't: Go Into Debt For "The One"
Regardless of your financial situation, the pros warn against going into unnecessary debt for an engagement ring. "Regardless of what people might say, diamonds are not an investment," Anderson points out. "They are purchased for the love of the product not a monetary investment to be sold later. However, they can be an emotional investment." Between paying off student loans, buying a home, and globetrotting, stretching yourself or your loved one beyond what you can afford is a recipe for disaster.
Storied jewelry houses and exclusive diamond names are the right choice for some, but looking for labels alone can subject you to heavy markups and inflated costs. "The most dramatic mark-ups come from the bigger brands and internationally known retailers," explains Teresa Panico of Material Good, a New York City-based luxury jewelry boutique and showroom. "They have inflated retail pricing because they are aware that buyers will buy from them to enjoy the clout associated with their brand names."
Moreover, you should remember not to be intimidated by the glitz and instead focus on customer service, quality, and transparent pricing. Many shoppers forget to ask the important questions about return policies (hey, you never know), if the brand offers repairs or resizing and how they inspect their stones.
Don't: Focus Solely On The Certifications
The most widely used criteria for selecting an engagement ring is the 4Cs which are noted on a ring's certification. But buyers should remember that a ring, particularly a diamond, is so much more than its stats. Don't buy solely based on the certificate grading, but do confirm that your diamond is GIA certified. Every diamond is unique and extraneous factors not explicitly laid out in a certificate can have a negative effect on its look.
This is particularly an issue for shoppers who are searching exclusively online. Panico explains that elements of the stone that might be underwhelming on paper could greatly impact how a diamond appears to the naked eye. Conversely, a detail that might seem impressive written out could be virtually unnoticed when seen in real life. "The color grade of a diamond could be noted as possibly on the darker end of the spectrum, but if the stone is cut well the diamond can 'face up' whiter. The diamond could also have a lower clarity grade, but to the naked eye the inclusions might not be noticeable at all." Fluorescence, Landau insists, is also an example of a quality that is perceivable beyond the 4C certification. But there is a simple technique for beginners to avoid that mistake, "make sure to also see diamonds in natural lighting, as many retail stores have special lights that make the diamonds sparkle more."
As in love, imperfections are not a bad thing, which is why relying exclusively on a certification can close you off from an array of stunning choices. There are many ways to work around with design when you play with the color and clarity of the stone. "If your diamond is graded lower in color, set it in a yellow or rose gold setting because the color of the gold will help hide the color in the diamond," Anderson says.
Don't: Feel Stuck With A Solitaire
Choosing budget-friendly jewelry isn't necessarily about selecting a smaller or minimal stone. To find the ring of one's dreams, embrace less traditional aesthetics and consider factors like setting, stone orientation, and even the band. "The quality and design of the ring is just as important as the diamond itself. I would much rather have an average diamond in an amazing ring, than an amazing diamond in an average ring," muses Madilian. "The person wearing the piece is not wearing just a diamond. They are wearing a ring with a diamond in it."
If size is what you're after, there are plenty of ways to make your engagement ring look bigger like seeking out unique shapes (think pear or marquise) that offer greater coverage on the finger and are usually not as pricey as more common cuts like round brilliants, according to Landau. Many customers think of their budget as a limit, but that certainly isn't the case when you go custom. Leehe Segal, founder of made-to-order jewelry company Bleecker and Prince believes in the power of clustering. "I personally like to focus on a three stone ring instead of a solitaire, then you get three not-so-small diamonds covering the top part of the finger. Or if you're going for yellow or rose gold you can go for a much lower color [stone]."
Get creative with your budget and your design and keep less popular cuts or lower quality stones in mind to maximize your look. "Try an antique cut like an old European or old mine cut. Although there are fewer of these diamonds available on the market, you do have the flexibility of going lower in color quality. Because of how antique diamond is cut they can usually mask color better than modern cuts, so you are able to go larger in carat weight and still have the diamond face up white," Landau continues. And, of course, she explains, don't forget the halo effect. "If your diamond isn't as large as you would like it to be, set into a pave diamond halo. This will give you the look of a larger stone without having to spend the extra money."
Don't: Write Off Online Shopping
Though some may argue that shopping for a diamond online is treacherous, the truth is it can be done and, oftentimes, this can lead to more affordable buys with a less intimidating experience. "Pieces shown online are generally more cost-effective across the board. More 'deals' can be found as online retailers are motivated to sell off their inventory, and much of the inventory is mass produced so the back end costs are much lower," outlines Panico.
Critics suggest that adding a ring to your cart online increases the buyer's dependency on the GIA certification and it can also mean you are more likely to get a mass-produced item, rather than a handcrafted ring, which, for many, isn't a big deal. Simply do your research and seek out trusted online retailers with thorough reviews. MiaDonna, for example, offers a home try-on program that allows shoppers to select styles and give them a spin IRL. The Clear Cut has positioned itself as a "personal diamond concierge" that exists between traditional retail and online marketplaces to make the ring buying experience more educational, attainable, and transparent.
Don't: Overlook The Lab
The market for lab-grown diamonds is increasing every day as buyers are searching for more ethical and eco-friendly options for their stones. Not only can lab-grown stones be less expensive, but they can also give customers a sense of transparency that they so often feel is lacking from traditional offerings. Companies like Couple want to challenge the assumed gold standard of mined diamonds. According to their site, Couple's lab-grown diamonds are atomically and chemically identical to mined stones, but are a whopping thirty-five percent larger on a price basis. Anderson of MiaDonna explains, "It's important to remember that a diamond is a diamond whether you're choosing a lab-grown diamond or an earth-mined diamond. Both are optically, chemically and physically identical. The only difference is their origin and the price." So if origin is an essential factor to you or your loved one, it is a big misstep to look beyond the lab.