This Fashion Boss Thinks This Is What You Should Wear To Work This Summer
@nikkiogun On Instagram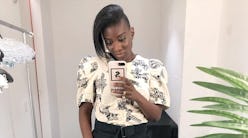 Summer's great and all, what with all its tropical vacations and extra-long weekends, but when it comes to finding easy summer work outfits, the realities of the situation are a little sticky. First, warm temperatures and humidity don't always play nicely with professional-wear. Also, there's the commute to consider — it's all too common to start the morning off feeling fresh, but end up in a puddle of sweat after dwelling on the hot subway platform. Then, there's the fact that once you finally arrive, office air conditioning can create sub-Arctic temperatures at your desk. Clearly, putting together a look for work during summer's steamiest months requires strategy, even though all you really want this time of year is to throw on something easy and be done with it.
So what's the solution for the aforementioned summer office grievances? Ahead, you'll hear from six stylish fashion industry bosses — all of whom share their style tricks for dressing professionally during the hottest month of the year. Included below: the best fabrics to wear when its warm (hint: they're breathable), and silhouettes that are comfortable and conservative all at once. Read on for their helpful tips and shop the picks to keep your 9-to-5 — and your body temperature — feeling fresh.
Christina Tung, Founder, House Of & SVNR
When the weather warms up, Tung's top priorities are as follows: loose fitting silhouettes and light-weight materials. "This Cupro dress from KkCo [is perfect] to keep cool and stay office-appropriate," she tells TZR. "Also, open-weave linens and cottons feel the most breathable in the heat. I try to avoid tight and short, because the clingy fabrics end up making me feel even hotter."
Tung's PR agency is based in New York City so she also knows firsthand the office AC struggle. "Keeping a lightweight blazer or open-weave cardigan is always helpful and provides some coverage for any questionable tops. The heat often makes us skew to the casual side, so creative accessorizing helps to keep it interesting." To take her look up a notch she reaches for wire-frame sunnies from Westward Leaning, simple jewelry from SVNR + Pattaraphan, pointy raffia mules from Giovanna, and a structured bag from colorful brand Alfeya Valrina or Senreve.
Iman Hasan, Head of Social Media and Influencer Marketing, 5th Column
For a piece that's easy, polished, and breezy enough to wear throughout summer, Hasan usually opts for a lightweight maxi dress. "To create shape, I tend to pair them with a high-waisted belt. They're the best way to stay cool, chic and comfortable," she says.
Though a simple white or earth tone option is great for those who prefer to keep things simple, Hasan suggests opting for something bolder. "I'm a big fan of colors and prints, so pairing a cute summer dress with statement wedges is always a win win and an easy day-to-happy-hour outfit."
Nikki Ogunnaike, Style Director, Elle.com
Ogunnaike points out that professional dress can mean something completely different depending on your personal style or office dress code, "but [I personally] always found success with pairing a nice pair of trousers with a sleeveless or short sleeve shirt, and a low heel or clean sneakers."
She explains that by wearing her outfit of choice, "I won't overheat on my commute, can still deal with my office's overzealous AC, plus feel put together should an important meeting pop up on my calendar." So, consider opting for the ensemble too when you're in need of something polished but practical.
Max Bonbrest, Co-founder and COO, AYR
"The street-to-office temperature drop in NYC in peak summer is no joke. I am a big fan of layering, as it helps keep you acclimate from the hot city streets to frigid AC office life," Bonbrest tells TZR.
The New Yorker co-founded her company with the aim of designing denim and other staples that can be worn year-round and in a myriad of contexts, including the office. "The Mirage Pant is the perfect piece for looking put together but braving the elements," she recommends. "It's a special silk and spandex mix, so it has the benefits of a lightweight fabric that breathes but won't wrinkle, and you can throw a jacket over your t-shirt in the office to avoid the chill."
"I'm reaching for midi-length slip dresses. The elegant and roomy fit allows for flexibility," Bühler notes. Her San Francisco-based company is a cool girl's go-to for trend-forward separates that can be mixed and matched to adapt to a myriad of situations. And though Northern California lacks the humidity of the East Coast this time of year, polished layering pieces are a key staple. "I can toss a blazer over the slip in the office and it's dressy enough to take into the evening. Slip dresses also style perfectly with a low heel and a vintage beaded bag."
Kara Lacey, Co-Founder, The Hours
"There is typically no happy medium in an NYC office. It's either sticky and humid or freezing on any given day," Lacey tells TZR. "If you're going from AC to the subway to the street to the office, your best summer wardrobe consists of layers of cotton and linen, and keeping some sort of lightweight wrap or cardigan at your desk."
Her role requires her to commute from office to meetings throughout the week and thus a breathable, versatile office wardrobe is a must. "I always invest in crisp cotton tees and tanks, printed silk skirts and dresses, and a great lightweight cashmere wrap. We always have a supply of chic fans from Chinatown on hand for those broken AC days." As for her office style rules? "It may sound old school of me, but while open toes are ok in a fashion skewed office, never go the cut-off shorts or crop top route!"