6 Australian Beauty Pros Explain What "A-Beauty" Really Is
Go-To Skin Care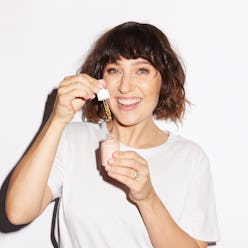 Some of today's top beauty products just so happen to be from down under, and it's easy to understand why. Australian beauty products simplify those difficult 10-step routines and quell the need for "glass skin." A-beauty, as it's called, goes for natural ingredients and an easy-breezy approach to what goes on your face.
"I think that our down-to-earth attitude and approach extends into simple ingredients where we can understand the origin," Erika Geraerts, founder of Fluff, a millennial makeup line founded in 2016, tells The Zoe Report via email. "Science can be overwhelming and natural ingredients just make sense."
Of course, a lot of people are still into options like chemical peels, which vary in potency — Joshua Zeichner, MD, tells us that mild ones are usually available over the counter, while deeper ones should be done by a dermatologist. "After the skin peels, it usually looks pink and fresh with improvement in skin tone, texture, and radiance," he says. And with A-beauty you get similar results, but instead of stripping the skin, you're feeding it.
A-beauty isn't solely about ingredients, though. It's also about embracing a mindset and approach that's just as simple as the ingredient lists. It encompasses "clean and green botanical actives boosted with cutting edge clinical cosmeceuticals that compliment a healthy lifestyle," Michelle Reeve, founder and managing director of the Waterlily Australasia spa says.
Extracts like lime caviar (a natural exfoliator, chockfull of AHAs) and kakadu plum (which is rich in Vitamin C, per Allure) offer therapeutic benefits to the skin, she says. Marshmallow root extract (which is found in Jurlique, one of the continent's most popular native brands), possesses mucilage, a gummy substance that soothes the skin, according to Byrdie.
Point is, Aussies know what they're doing when it comes to keeping their complexions looking good and feeling good — and keeping the planet green. Ahead, six Australian beauty entrepreneurs and influencers give insight on their thriving industry, and clue us in to the products that go on their faces — from their own respective brands, along with ones they admire. Oh, and bonus: all of these ship to the states.
Erika Geraerts, Founder, Fluff
"To me, Australian beauty is a low-maintenance attitude and approach to skincare and makeup with natural formulations — we call it casual cosmetics. Less is more, more or less," Geraerts, the former owner of frank body, says.
"Today, beauty in Australia continues to innovate in terms of natural formulations. It's become the new standard. We seem to love coconut oil (I put it everywhere and in everything). There are also some really great Australian ingredients with really great names like lily pilly and kakudu plum, pepperberries, buddha wood, marshmallow root, sea kelp, lemon myrtle, reef red clay, and forest peppermint. People want to connect to brands not just through their products, but their ethics and values, too. While the rise of social media influencers have taken makeup artistry to a whole new level, Australia will still stand for natural beauty, first and foremost."
"In Australia, we prioritize good skin over lots of makeup. So basically we're just like those cool French girls… just with less red lipstick and baguettes. Of course, we're not immune to Instagram beauty trends and 20 steps of baking, contouring, and highlighting — but our default, I think, is the simple, healthy, natural look that's been part of our culture since the days of Elle MacPherson frolicking along the beach in the '80s," Blake explains to TZR.
"In the same way that Australian fashion tends to be a bit more laid-back and casual, the Australian woman is more likely to be wearing a good daily moisturizer with sunscreen and fantastic brows than a smoky eye and over-lined lips."
Emily and Sarah Hamilton, Founders, Sand & Sky
"Realistically, we can't all live in Australia. So with skincare, we always want to deliver the same results to our customers without them having travel here (unless, of course, you want to… please join us!)," Emily and Sarah tell TZR.
"Our continent is one of the least polluted continents in the world, so we have these incredible botanicals and active ingredients that are pure and effective."
Ntombi Moyo, Stylist
"I was born in Zimbabwe before migrating to Australia. At the time, there weren't many people of color or a sense of community between the diaspora and the indigenous community. Now, we have stronger ties and strides of further inclusivity within the last few years. As a child, I remember watching Faustina "Fuzzy" Agolley [an Australian TV presenter] who was a music presenter and a DJ adorned in her beautiful Afro. She helped me and my friends see that we could also strive for creative roles like hers within the continent," Moyo explains.
"[In] the makeup industry, there's still a long way to go. As a woman of color in the continent, I find a lot of amazing skincare brands but still find myself clinging to international brands such as MAC Cosmetics and Fenty Beauty for the coverage that I need. The beauty conversation in Australia has not always been inclusive, and in my younger years, it was a challenge to purchase cosmetics as we could not go into local beauty stores that sell cheap, expansive foundation ranges."
"Overall, we have to start discussing what Australian beauty is outside of a white perspective. The world should see more makeup products reflective of our entire population. I commend Australia on its skincare products, but deeply encourage for more work to be done within the entire beauty world."
"A-Beauty places a big emphasis on defining your own beauty and celebrating your perfectly-imperfect self. If you feel healthy on the inside, you will glow on the outside. We're all about wellness, confidence, and bypassing the pressure to look a certain way," Devin tells TZR.
"Plus, our ingredients (like wildberry harvest, tazman pepper, manuka honey, and maritech bright) are popular because they work! They deliver the results as promised, and they're clean, powerful, and efficacious."