This Is The Skirt That Will Replace Your Leopard Slip
Silvia Olsen/Shutterstock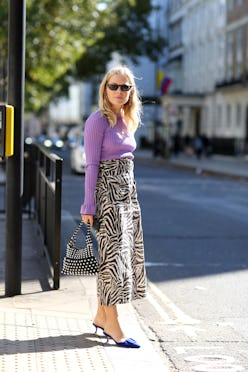 If you have so much as taken a stroll down the streets of Manhattan, you've probably noticed the plethora of leopard skirts on what feels like every street corner. While the summer 2018 trend is still going strong (even celebs like Kendall Jenner and Laura Harrier have embraced the jungle-inspired print), there are a slew of other 2019 summer skirt trends you may be overlooking.
Skirts are dressy, but also laid-back and effortless — a summer staple you can repeatedly count on, but also one that can anchor an entire ensemble. Whether or not you'd consider yourself as a "skirt person," cherish the months when you can slip on a skirt with a tank and sandals and head out of the door looking instantly polished. This summer, you can expect a sartorial mix of redefined classics — unexpected florals, updated slip skirts, and more structured styles alike. "Kilt-inspired skirts are a favorite style for me this season," says Natalie Kingham, fashion and buying director of MATCHESFASHION. "Chopova Lowena is a standout brand for me. They have such a strong point of view with their skirts, combining leather and tough metal detailing with bright colors and intricate patterns. I love their use of up-cycled fabrics in their designs, showing that a sustainable brand doesn't have to be safe in design."
Below, you'll find five major, yet unconventional skirt trends for summer that you should jump on ASAP and a few ways to make them feel totally on trend for the warm months ahead.
Zebra-Print Skirts
You may have noticed the shift from leopard to zebra as a style staple. While animal prints are here to stay for summer, zebra is a wilder alternative to almost-a-basic leopard. If you want to make it feel a bit more minimalistic, opt for black and white. If not, embrace the season's bold hues and style a colorful skirt with heeled thong sandals.
Belted Skirts
Utility-inspired details are a must this summer, and a belted skirt combines the downtown aesthetic with a bit femininity. For balance, "style [skirts] with a more voluminous shirt to add a softer touch to an outfit," Kingman suggests. Pair a belted midi skirt with an oversized button down and sport sandals for a utilitarian look. For a more feminine ensemble, add a silk top and the shoe du jour – a strappy sandal.
Button-Front Skirts
Button-front skirts in mini and maxi lengths have become a favorite among influencers for their styling ease. Seen on the runway of Rejina Pyo and Gucci, button-front skirts mark a return of the '70s, especially styles featuring luxe velvet and patchwork details. For summer 2019, the trend has reemerged in colors like slime green and pastel yellow and in crinkle and linen fabrics. Style with a block or architectural heel for a playful summer look.
Kilt Pleat Skirts
Pleated skirts in sheer fabrics and floral prints give the style are a traitionally ultra-feminine choice. But, this season edgier kilted skirts have become a more modern iteration of pleating. "The toughness of the heavy fabrics and pleating, mixed with strong prints or checks, makes for an interesting take on what can be a feminine wardrobe item," Kingham notes. "I'm a big fan of a classic shape or style and like seeing the modern take on a more heritage item like a kilt. A sport inspired sandal works well with the toughness of the Chopova Lowena designs."
Floral Skirts
There's a reason that floral prints are predictable come warm weather: They fit squarely within summer's natural aesthetic. This season, look for bolder design choices: bigger flowers in high-octane hues, mixed print skirts, and moodier floral motifs. When looking for an unconventional floral skirt, search for asymmetrical options or a design with a side slit.