5 Powerful Changes For Your Winter Skin-Care Routine
RomarioIen/Shutterstock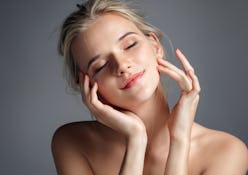 You might have heard, but it's been a year. Between being stuck inside the house for months, experiencing more stress than we ever once thought possible, and the emergence of maskne in our lives, it's safe to say our skin is going to be mounting more than just the usual seasonal obstacles this winter (aka harsh winds, dry air, and chilly temps). The upside is winter gives us an opportunity to reset our skin-care routine. With a few simple swaps and additions, you'll be able to keep your skin fresh, hydrated, and protected for the colder months ahead.
Get Your Vitamins
For starters, begin adding a healthy dose of vitamins to your routine. Never underestimate the power of vitamin E when it comes to keeping your skin healthy. Mary Kay's TimeWise Replenishing Serum C+E combines this potent antioxidant with three distinct sources of vitamin C that support your skin's repair process and collagen production (aka the things that keep your skin from aging prematurely). This formula doubles down on these age-combatting ingredients and will help support glowing skin all winter long.
Try Eye Patches With A Potent Dose Of Hydration
Do you find yourself second guessing the nightly application of eye cream? It's the thinnest and most delicate skin on the body so we recommend trying a twice-weekly 20-minute relaxation session with these hydrogel eye patches to see soothing results. They instantly revive tired eyes by delivering a direct boost of hydration. An added bonus: building meaningful "me time" back into your schedule.
Kiss Harsh Ingredients Goodbye
Take a look at the oils you've been using on your skin and get ready to toss anything with an ingredient you can't pronounce. Instead, opt for this quick-absorbing, naturally derived hydrating oil, which is free of synthetics and dehydrating ingredients like alcohol or silicone. Since all of the ingredients are derived from natural sources like water, plants, and minerals, this lightweight formulation will leave your skin feeling hydrated and looking revitalized.
Double Down On Hydrating Creams
Creams for winter feel like a no-brainer, but we don't want you to be afraid of heavier hydration (even if you have sensitive skin). Mary Kay's Intense Moisturizing Cream infuses dry winter skin with a boost of moisture that lasts for up to ten hours. This rich formulation is packed with humectants and a marine extract that forms a protective shield on the skin to lock in moisture and provide a smooth, radiant look and feel.
Match Your Face Masks To Your Skin Mood
It's easy to stock up on face masks that focus on singular problem areas. Mary Kay's Mad About Masking Mask Pod Gift Set features four single-serve masks that can be applied individually or in combination with one another (multi-masking is the true hero of targeted skin care). Each pod recreates the luxury of a spa facial, even when you're just masking on the couch in your sweats. Pro tip: The Dewy Gal gel mask is packed with hyaluronic acid, glycerin, and vitamin E for all your glowy skin needs, even if the weather outside is frightful.
This post is sponsored by Mary Kay®.