5 Fashion Gifts Every Woman In Her 30s Wants
Dvora/Shutterstock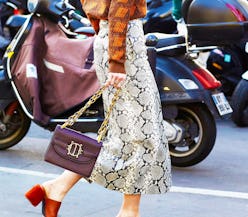 I recently turned 30 and despite always having had a fairly mature sense of style (some of my friends say it borders on school teacher-chic), my sartorial stride into this new decade has been a liberating one — not to toot my horn too hard, but I think it makes me a bit of an expert when it comes to figuring out the ideal gifts for women in their 30s.
From sharp midi dresses to tailored separates and even suits, I'm finally dressing the way I've always wanted to dress but, but didn't feel ready to pull off in my 20s. Now, I feel like I can really wear what I want, when I want to and not worry about how it's being perceived — okay, maybe I care a little, but in the right way. For example, I want to appear polished for work events, sophisticated for meetings, and put-together enough when running errands and seeing friends. And I somehow feel as though I'm finally allowed to. A weird but true fact that I'm sure many other 30-something woman can relate to.
But I'm not just here to declare my developed sense of confidence when it comes to fashion but help guide all the holiday shoppers out there who are struggling with what to get the 30-something woman in their life. Sure, what works for me may not apply to every woman in my age bracket, but I can say with certainty that at least one of the items on my list will appeal to most women age 30 and above. Ahead, scroll though my edit of fashion-centric gift ideas, including expert opinions from two industry insiders. But don't take too long, 2019 will be here before you know it!
Gifts For 30-Something Women: A Silk Scarf
Whether she's a logo lover or print fanatic, a silk scarf is versatile in that it can be tied around the neck, onto a bag, or worn as a hair accessory. "Women in their 30s appreciate elevated presents that are both practical and personal," says Kesslie Williams, a style expert at Anthropologie. "A silk scarf is a perfect gift for a woman of refined taste."
Gifts For 30-Something Women: A Printed Skirt
Accessories are fail-safe fashion gifts when you're unsure of size. But if you're clear on measurements, a timeless piece of clothing makes for a sartorially pleasing gift. "A classic silk skirt in a playful print will be a versatile addition to her closet, offering many styling options for both day and night," says Williams. For optimal versatility, look for a mid-length that can we worn repeatedly with knee-high boots, ankle lengths, heels, flats, and sneakers.
Gifts For 30-Something Women: A Timeless Bag
Williams agrees, a timeless tote in rich leather is fashion piece any 30-something woman will carry frequently and for years to come. For optimal versatility, go with a neutral color like black, brown, tan, or ivory. Mid-size styles are also quite versatile, especially on days when you know she doesn't want (or need!) to carry everything but the kitchen sink. Think sleek cross-body shapes and unique top-handle styles.
Gifts For 30-Something Women: Statement Earrings
"With a mix of trend and tradition, [statement] earrings are the perfect adornment to any outfit," says Williams. To ensure her sartorial sense is highlighted, go for an earring style that's slightly off kilter whether it's a modern take on a classic or a sculptural statement piece.
Gifts For 30-Something Women: Diamonds
Okay, so not everyone can afford fine jewelry. But if diamonds are in your budget, they're sure to hit big. "A staple of any woman's jewelry collection is elegant diamond earrings that can easily be dressed up or worn casually," says LA-based fine jewelry designer, Katherine Kim of KatKim. "The Crescendo Flare Earring makes the perfect earrings for a woman to wear from day to night." For more of a statement, modern hoops and chain-link earrings feel extra-special with a dust of diamonds.
This article was originally published on