5 Bag Trends Ideal For Women With Classic Style
Grosescu Alberto Mihai/Shutterstock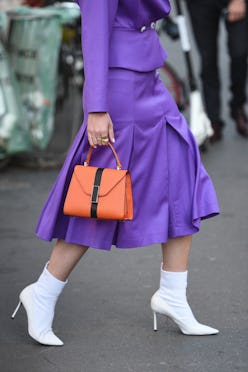 The right handbag has the power to transform an outfit: A structured shoulder bag can add instant polish to jeans and a T-shirt, and a colorful mini bag can transition your work look into evening. For women with polished style, finding a sophisticated bag that fits in with your streamlined aesthetic is par for the course. Luckily, as the time of year when sharp tailoring and luxe materials make their return, fall is the ideal time to consider a new carry-all.
This season, the newest fall handbag trends are largely reimagined classics, with designers debuting modernized takes on standby silhouettes that are destined to become classics in their own right: Staples like the box bag and tote come in bold, neon colors and feature subtle details that make them of-the-moment; the cult-favorite mini-bag collided with vintage-inspired, croc-effect styles that feel especially fresh.
Luckily, these small updates don't make them any less ideal for a woman with classic style. Ahead, find the five must-have bag trends ideal for the woman looking to add a little extra dose of polish to her look right now.
Swap Out Your Everyday Purse For A Croc-Effect Bag
This fall, the vintage-inspired croc bag has been transformed, popping up in classically structured silhouettes in a wide range of fall colorways like bold mustard, deep brown, and rich burgundy. Instead of your usual everyday work purse, try swapping in a faux croc bag for a timeless style.
Opt For Classic Finishes
This season's MVP accessory: the prized, pint-sized mini bag. To best incorporate the trend into outfits, look for options that feature classic textures like sleek patent leather, along with colors like cherry-red and matte black, which you can easily rotate into your closet.
A Shoulder Bag Is Ideal For Day-To-Night
The shoulder bag has been a revered fashion staple since its debut on Sex and the City. This fall marks its returns as designers across the board have ushered the classic bag into a new era with bold, modern hardware and more structured shapes that feel more sophisticated and less bohemian than the first go-around.
Tow A Classic Box Bag For Extra Polish
The wardrobe mainstay is ideal for styling with a slinky slip dress and a chunky knit — or with an oversized blazer and sporty trainers for a polished, updated take on workwear.
Look For A Structured Tote In Timeless Shades
When in doubt, the structured tote is the perfect carryall for stashing all your necessities or for when you're on-the-go. If you're in the market for a piece that will age gracefully — and aren't we all — try looking for the classic shape in timeless shades like caramel or navy, and bursts of autumnal tones including the on-trend orange hue, have helped to revive the bag this season.