5 Designers From Russia Fashion Week You Haven't Heard Of — Yet
Courtesy MBFW Russia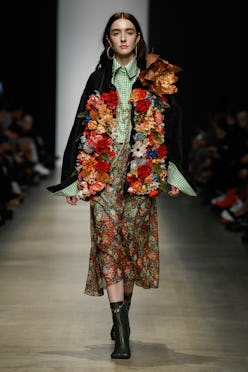 It's always fashion week somewhere. While Mercedes-Benz Fashion Week Russia may be smaller and lesser-known than its global counterparts, the Moscow-based event is one to put on your radar. With 60+ shows over five days, this season, the event hosted a diverse range of sustainable designers, experimental street style, and global talent. The result: a celebration of the quirky-creative aesthetic that is often lacking from some of the more large-scale fashion weeks.
While the other major stops on the fashion circuit have been critiqued for their slow-moving prioritization of diversity season over season, Moscow's runways gleefully defied all stereotypes of a typical fashion casting. Filled with a range of models that were age diverse, LGBTQIA+, disabled, and unique, the week was a celebration in representation on the runway. And more than that, the week was an opportunity to elevate emerging talent which may not have the same platform in Paris or New York. Below, find five designers to watch.
Roma Uvarov Design
Uvarov's collection was inspired by the opulence of Romani wedding culture, transforming non-conventional fabrics — including kleenka, a plastic used on tables in Slavic villages and a deconstruction of the traditional floral shawl — into vivid, sculptural designs. Patchwork skirting and flowing ruffle cowboy shirts were contrasted with standout accessories including sheer veils, rhinestone fringed glasses, and even a fur sombrero. If you're on the hunt for fresh statement pieces to covet, Uvarov is one to watch.
Leaf Xia
China born, NYC-based Xia showed during the week as one of Moscow's Global Talent Initiative winners. The new collection featured playful oversized silhouettes and collage-inspired prints, taking viewers into a colorful world of fun fantasy. Xia touched on traditional Chinese influences and used an intricate mix of fabrics — rich velvets, quilted puffers, and sheer undergarment layerings — along with quirky accessories to expand on the line that has already caught the eye of fashion forward musicians like Billie Eilish, Hayley Kiyoko, and Raveena.
Linus Leonardsson
London-based Swedish designer Leonardsson, a graduate from Antwerp's prestigious Royal Academy of Fine Arts, presented his debut collection "See You In the Fog" during Fashion Week in Moscow. This first show was inspired by Stockholm's "Forest Raves" and the pieces were crafted largely from upcycled and found objects — a reflection of his commitment to sustainability. Leonardson notes that the collection is entirely gender fluid, and leans on inspirations ranging from 17th century fashion to rave culture. Particularly notable were the accessories, which included colorful headscarves and eccentric reflective eyewear.
Pirosmania
Grounded in the conviction that each item should be a work of art, Pirosmani by Jenia Malygina is a well-known brand from St. Petersburg. Evoking dark romantic influences, the collection featured an array of oversized tailored pieces in interesting silhouettes and textures, all layered together in a utilitarian way.
Mad Daisy Moscow
Creative director Margarita Fedoseeva opened the show with a touching video message highlighting the brand's partnership with the State Tretyakov Gallery to support women living with alopecia. From there, a diverse range of models walked the runway in silky, loose-cut dresses and separates in a sea of blue and coral variations. Fedoseeva's message to showcase the women who inspired the collection resulted in a fearless, modern collection that felt entirely wearable and also fun.