5 Easy Halloween Costumes That'll Cost You $50 Or Less
Broadimage/REX/Shutterstock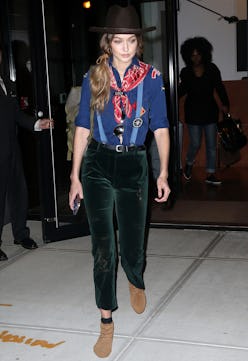 Halloween is creeping ever closer, which means whether you like it or not, it's time to get a costume lined up. Here's the good news: It's possible to put together a simple and cheap Halloween costume. In fact, for under $50 you can pick up one key themed piece that'll anchor your ensemble. For those not feeling crafty enough to totally DIY a costume, don't worry: There's no sewing, cutting, or decoupaging needed to pull these costumes off. Instead, you'll just need to break out a couple of closet staples (think: sneakers, leggings, or high-waisted jeans) to complete your look. And since the weather can be finicky this time of year, there are options involving long sleeves and coats, so you won't spend the evening wishing you'd stayed in sweats at home.
So, whether you've committed to trick-or-treating around your neighborhood, or you'll be celebrating the holiday in a more adult manner (with snickers and skittles still involved of course), you'll nail the costume contest portion of the evening. Below, find five costume ideas that you can put together with one under-$50 purchase styled with the closet staples you already own. Get your shopping out of the way now and turn your attention to more important Halloween-related activities; namely carving pumpkins and planning a scary movie marathon. Turns out, even those who aren't a fan of the year's spookiest holiday don't have to be terrified of pulling together something simple to wear.
Margot Tenenbaum
1. Buy:
To anchor this costume, you'll need to shop for a preppy polo dress, like this mini dress with pearl-button details.
2. Add:
To add to the look, throw on your favorite furry coat and use a hair clip as the finishing touch.
Skeleton
1. Buy:
A $10 skeleton tee is a simple solution if you don't want to take your costuming all too seriously.
2. Add:
To keep things simple, style the sweatshirt with black leggings and sneakers. This way you'll be comfortable all night long.
Devil Wears Prada
1. Buy
No devil costume would be complete without a pair of red horns. This headband version is affordable and well, pretty darn easy.
1. Add:
Dust off your best and boldest Prada pieces and wear them with pride. This is a costume that truly shouts high fashion (bonus points if you whip out the flame heels).
Leopard
1. Buy:
A leopard dress is the first step to embracing this feline costume. The best part is despite being a costume, you'll actually want to wear this look all season long — albeit, probably separately.
2. Add:
Mix in the leopard accessories you already own for a head-to-toe look.
Cowgirl
1. Buy
A cowboy hat is a simple accessory that makes your costume instantly clear. You may not live in the wild west, but you'll look that way for Halloween.
2. Add:
This is the perfect occasion to break out the cowboy boots you bought this fall, then add your favorite pair of light wash jeans to accentuate the western vibes.