4 Stylish Winter Outfit Tricks That Will Actually Keep You Warm
Courtesy Net-a-Porter/Dan Roberts Studio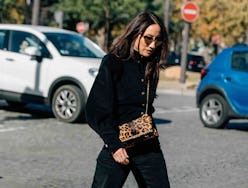 Putting together a winter outfit usually goes one of two ways: You pile on the layers and abandon any chance of feeling dressed up, or you opt a particularly cute outfit and just know you'll spend the day freezing. But, it shouldn't have to be this way. Navigating how to stay warm and stylish in the winter just means having a few tricks up your sleeve that you can whip out when you're feeling chilly, but don't want to resign yourself to a ski onesie or balaclava. Learning how to layer and cherry-pick key pieces means you can leave those ultra-practical staples for the slopes and opt for something a little more sartorially pleasing.
To help you navigate the art of being both cozy and chic this season, Elizabeth von der Goltz, the Global Buying Director at Net-a-Porter has some simple advice — and of course, shopping tips. The London-based expert is no stranger to chilly weather nor the art of pulling together a fashionable outfit in freezing temperatures (one scan of fashion week photos from this past February is all the proof you need). Below, you'll find four key ways you can capitalize on your existing winter wardrobe and give your cold-weather style a boost with just a few simple additions. That way, if another polar vortex rolls around this season, you'll be prepared, but won't feel as if you're dressed like an arctic explorer.
Have The Basics Covered
First things first: When putting together your winter wardrobe, it's key to establish a capsule of items that you can fall back on over and over again. "Every woman should have a great coat, amazing knitwear, long wide-leg pants, a midi dress and a tailored jacket in her winter wardrobe," explains von der Goltz. "It's all about layering during the colder months and each of these items is perfect for just that."
Find Transitional Boots
"Boots are the most important kind of footwear during winter," von der Goltz says. But, the key for winter dressing is finding styles that are comfortable and easy to transition from the office to drinks afterward. This season, the buying director suggests investing in a colorful pair of boots "to add an unexpected pop" along with "a soft neutral colored boot in a higher shaft style as they pair well with everything."
Invest In A Statement Coat
An easy way to make even the simplest outfit feel especially stylish come cold weather, is to anchor your look with an eye-catching statement coat. "I love very long coats as they are so dramatic and keep me warm," says van der Goltz, who also suggests faux fur or patent trenches as fun (and practical) options for winter weather.
Embrace Your Base Layer
Winter means mastering the art of layering to keep warm, which makes a fitted turtleneck a requirement for outfit planning. Van der Goltz explains, "I always layer a turtleneck under my outfit for extra warmth." Utilize a turtleneck with some of your favorite warm weather pieces, like a sleek slip dress while the weather allows, then layer it under a sweater or coat for an extra layer of heat on particularly chilly days.