The Crucial Rule Long-Standing Married Couples Swear By
Dimitrios Kambouris/Getty Images Entertainment/Getty Images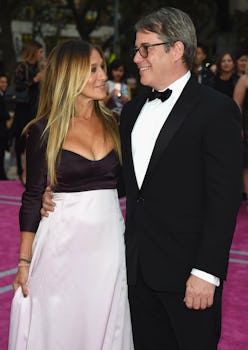 So often, the first few months or years of marriage can feel like total bliss. The attraction and emotions are at a high and it seems like it's going to be smooth sailing from this day on. However, couples who've been in a state of matrimony for some time know that this is simply not always going to be the case. To keep the peace and connection alive, a few key rules are needed for a happy marriage — or, at least, a healthy one.
Read more: 8 Signs You're Ready To Get Married, According To Therapists
The appeal of tying the knot can stem from a number of things but, more often than not, the heart is involved. According to a 2013 study by the PEW Research Center, 88 percent of Americans cited love as the most important reason to get married, 81 percent opted for lifelong commitment, and 76 percent said companionship was at the top of their priority list. No matter your reasons, most everyone will agree that some solid partner-focused habits are key to keeping your eye on the prize, the prize being forever. "When you get married, the ''til death do us part' vow is so easy to say," explains Lisa Baker, who just celebrated 25 years of marriage with her husband Greg. "But you have to have the character and courage to understand that that requires sticking through the rough patches and hard times. You have to have a will to keep trying and not give up hope."
Read more: 10 Signs You've Found The One, According To Relationship Experts
It's safe to assume every married couple who've been together for more than a couple decades (or one for that matter) has seen their share of storms and trials. They also most likely adopted a few rules and standards to live by to better navigate these storms. While every pair is different, ahead, a few solid ones to put in your pocket that might be worth making your own.
Rule #1: Communicate & Listen
As cliché as it is, there's a reason literally everyone cites communication as the cornerstone to any healthy relationship. But hand in hand with that communication, comes, that's right, listening. "The rule that [my husband and I] use with each other is that we must keep the lines of communication open," says Janell Stephens, CEO and founder of Camille Rose, who's been with her husband for over 20 years. "Furthermore, we not not only make a point to communicate with each other but listen to each other as well and be respectful of our agreements and differences."
Rule #2: Acknowledge Goodness
After some time and once the novelty and shine of marriage wears off, so can that of your partner. Nevertheless, remembering and recognizing the good qualities in your spouse regularly can help keep respect and affection in tact. "It's so easy to take them for granted and overlook the qualities of the person that drew you to them in the first place," says Baker. "For instance, right now, my husband is on a quest to find this necklace I've been wanting for some time and going to great lengths to make sure it's the perfect one. As long as I've known him, he's always been sweet in this way and I need to mentally and verbally acknowledge this considerate nature of his."
Rule #3: Prioritize Bonding Time
With any long-standing partnership, making consistent time with your significant other is key. The stressors of life and growing priorities like children, careers, and families can make one-on-one moments more and more sparse and harder to fit in. No matter, prioritizing time for you and your partner to connect is important to staying, well, connected. And, to be clear, this doesn't necessarily just pertain to sex (although that's important, too!).
"You have to remember that you don't get time back," says Baker. "You should take every opportunity to check in with each other and bond over the things you both connect with." For example, Baker and her husband are avid "foodies" and, living in Austin, Texas, they make it a point to explore the garden variety of Southern fare the city has to offer.
Their mutual love for travel and adventure also keeps the Bakers bonded. "We took a road trip a few years ago from Austin to Maine and it was one of the most fun and surprising experiences that we've ever done," recalls Baker. "We've taken fun trips in the past, but spending that time together and stopping along the way really kind of bonded us and rekindled some ideas of why we love each other."
Rule #4: Laugh
Life and relationships can get serious, so keeping things light whenever you can is crucial. "The advice I would give is to just have fun with it," says Stephens of marriage. "Don't take life so serious to the point where it interferes with your happiness. Keep the joy and laughter in your home. Know that it is OK to peel back those layers and allow yourself to remain the person that your spouse fell in love with. Don't let life circumstances weigh you down so much that it takes away your spirit."