The Newest Designers At Net-A-Porter Are All About Fresh Takes On Basic Wardrobe Staples
Net-A-Porter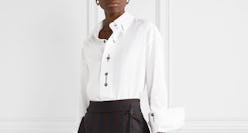 Wardrobe staples for work and beyond can often be associated with being boring — and yes, it's true, they can be super simple if you want them to be. But, that doesn't have to be the case. And, if you're looking to up your essentials game, then, you should turn your attention to the new clothing designers at Net-A-Porter immediately.
Living within the shopping destination's crop of new brands are four lines in particular to take note of: palmer//harding, LE 17 SEPTEMBRE, Wright Le Chapelain, and Frankie Shop. Though they hail from different parts of the world, these brands are all bringing a fresh twist to closet staples in their own unique way. On top of that, many of the ultra-chic styles you'll see below will give your office attire a stylish boost while still keeping it polished and professional.
On that note, keep scrolling to meet four brands that'll instantly uplift your outfits and have you saying "so long" to snoozy wardrobe staples.
palmer//harding
Levi Palmer and Matthew Harding, the design duo behind palmer//harding, give timeless pieces a sartorial spin. In the mix, you'll find styles like a classic white button-down with unexpected details and a tailored trouser with a detachable skirt overlay.
LE 17 SEPTEMBRE
This Korea-based brand brings unique detailing to modern, minimal styles. Right now, the selection on Net-A-Porter includes a range of separates as well as several coats styles in neutral hues that'll easily become go-to toppers.
Wright Le Chapelain
Launched in 2017 by Imogen Wright and Vincent Le Chapelain, Wright Le Chapelain brings a new modern take to classic pieces. Currently, the fashion-girl favorite retailer has a range of exclusive styles from the brand that includes blazers, pants, and dresses as well as a chic short that's not to be missed.
Frankie Shop
A name you're likely already familiar with, Frankie Shop has made its debut on the shopping site with an exclusive capsule collection. Fans will be pleased to see the lineup on Net-A-Porter includes stylish staples with that cool-girl feel the brand is known for serving up at its own brick-and-mortar stores and on its website.