This Denim Brand Just Put The Coolest Spin On Your Favorite Nike Sneakers (& Made Jeans To Match)
COURTESY OF 3x1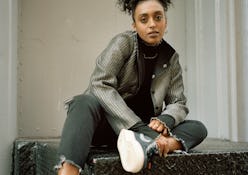 If you're in the market for a fresh pair of sneakers for summer, look no further than 3x1's Nike collab. The NYC-based brand has partnered up with the iconic athletic giant to create a trio of special-edition Air Force 1 styles that will easily convince you to add denim into your footwear lineup. That said, while it's likely you'll be won over by these uber-cool sneakers pretty quickly, you'll need to snag yourself a pair equally as fast, as sizes are selling out with each passing minute.
On that note, here's what you need to know before you scoop up a set: The newly launched sneakers are available in three sporty-chic colorways — Black Denim, Stonewash Blue, and Raw Indigo — for $130 a pair. Each of the styles features a custom "Bowerman Orange" selvedge ID (named after Nike co-founder Bill Bowerman), which can be seen most prominently on the Stonewash Blue Selvedge shade.
"It's no surprise we're huge fans of Nike. Not only has NIKELAB been our physical neighbor for nearly a decade on SoHo's Mercer St., but we also share a strong philosophical camaraderie based on a shared belief in innovation, personalization, and transparency," reads a note from 3x1 Founder, Scott Morrison, on the brand's site. "Now, for the first time ever, we've teamed up with our friends at Nike in a BIG way to create three completely selvedge denim Air Force Ones."
Though fans of the Air Force 1 have seen numerous versions of the legendary silhouette throughout the years, this marks the first time the Nike style features selvedge denim on the outside and a fully lined denim interior. Exclusively made for this collaboration, the Japanese selvedge denim was created by Scott Morrison and Kuroki, a Japanese mill — making these styles super special and a must-buy for any sneaker lover.
However, 3x1 didn't stop at sneakers; it's also serving up a selection of jeans to match up with your new set of kicks. Choose between the W3 Straight Authentic Crop High Rise Jean in a washed black for $265 or a blue hue called Ace for $245 — the cropped frayed hem on both styles will allow the sneakers to really shine.
Continue on to score yourself a pair of sneakers from this new collaboration before your size sells out. And, pop a pair of jeans into your cart while you're at it, too.