A Bunch Of 3x1 Jeans Are On Sale Right Now & These Chic Cropped Flares Are Under $100
3x1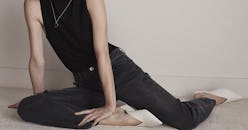 Can you ever really have too much denim? The answer is probably no — especially when jeans have become a regular staple for nearly any setting (and yes, for some of you that includes the workplace). But let's be real: There are more occasions to wear the denim staple than there are not, which means you will always have a reason to add new pairs to your collection. But just in case you needed another, a ton of 3x1 jeans are on sale right now — and a handful are available for under $100.
Between the looser, more relaxed pairs you wear during the weekends and the sleek, fitted styles kept for nights out, it's clear that jeans have come a long way since they first emerged as a standard workwear piece in the 1800s. Today, there's a virtually infinite number of silhouettes to choose from, and with each style comes a variety of trends. In other words, there are new styles to add to your personal denim catalogue every day.
If you've been wanting to try out the new trend of the moment, or are hoping to build a curation of classic pairs, 3x1's sale section is the place to shop. It's chock-full of stylish jeans and other chic staples, and there's no doubt that pieces from the brand's sale will find a place in your closet.
This sale has plenty of under-$100 pairs of jeans to choose from, but there are some styles that you'll want to get your hands on, stat. Get yourself excited for spring and show off your ankles with the W5 Empire Crop Flare, which has been marked down to $99. To dress this pair of jeans up, wear them with minimalist sandals or pumps. If you prefer a wider fit, the '70s-inspired Joni Wideleg Jean is made with 96 percent cotton that guarantees a more rigid feel in the fabric and is also $99. Another affordable pair is the Stevie Straight Jean, a high-rise straight-leg silhouette that can be worn with anything.
Once you've added those into your cart, you can start thinking about more trendy styles like the Corset Slim Jean, which is now marked down to $ 276.50. This style is perfect for your nights out and features a faded wash that was created using a light laser and hand sanding techniques. Another cool style to add to your wardrobe is the now-$119 Bijou Stirrup Jean. With silver grommets near the hem on each leg, this unique style will give the most casual ensemble an edge.
Now, scroll down to see more jeans to shop from 3x1's sale section.