39 Things Under $35 You'll Wear Again & Again — & Are Shockingly All On Amazon
Amazon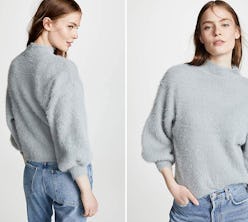 Splurging on the season's latest trends is undeniably fun, but styling said trendy pieces is going to be a struggle if you don't already have a solid selection of staples to work with. That's why it's so important to stock your wardrobe with timeless classics, basic knits, and minimalist layering pieces, like these 40 things under $35 that you'll wear again and again. That way, when you do wind up picking up that new, animal print skirt or pair of strappy, neon sandals, you'll have enough pieces in your closet to style it a dozen different ways.
Not only is every item on this list affordable, but they can all be bought right on Amazon, too. Home to a mix of small-scale artisans, contemporary labels, and their very own in-house brands, Amazon's fashion marketplace is an amazing place to find a selection of quality clothes, shoes, and accessories at competitive price points — and don't forget about that speedy two-day Prime shipping. What's more, with the game-changing Prime Wardrobe program (which is automatically included with any Prime subscription), you can try up to eight items for a week to decide what you want to keep. Anything you want to return, you won't be charged for — and return shipping is free.
So go ahead and indulge in a little bit of risk-free shopping. Not only are these pieces easy to return, Amazon reviewer-approved, and totally affordable, but their timeless designs means you'll wear them forever.
This article was originally published on