36 Things That Significantly Upgrade Your Wardrobe For Less Than $50 On Amazon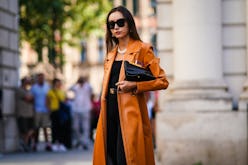 While splurging out on the shoe of the moment or a new statement jacket is always fun, it's often the more mundane purchases that help you look polished on a day-to-day basis. Whether it's versatile basics to fill in the gaps in your wardrobe or ingenious products that extend the life of your most cherished pieces, savvy shoppers know that the "boring" fashion buys are as important as the splurges. Luckily, you don't have to spend hundreds to have a well-balanced, perfectly maintained, and artfully accessorized wardrobe. Case in point? These 38 things that significantly upgrade your wardrobe for less than $50 on Amazon, which means even if you pick up a few of these genius products, you'll still have plenty of space in your budget to shop that new collection you've been eyeing.
Some of the items in this edit are meant to round out your existing wardrobe by adding some essential element — think wear-with-anything power pumps, the perfect white tee, a silky neck scarf that instantly elevates any outfit — giving you new ways to wear your favorite go-to pieces. Other products are meant to make your clothes and accessories more wearable by removing stains and pills, making minor adjustments for a better fit, and generally keeping them in tip-top shape. Everything on the list does have something in common, though: Without putting in much effort or spending much money, these simple purchases will ensure you never feel like you have "nothing to wear" again.