34 Genius Things That Make Your Shoes & Clothing More Comfortable (That You Can Get On Amazon)
Christian Vierig/Getty Images Entertainment/Getty Images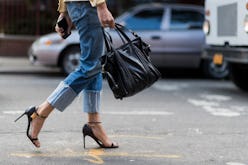 For the last few years, the fashion world has been enamored with comfortable, casual clothing, with trends like athleisure, normcore, and hygge-chic taking center stage. And while it's certainly not time to retire your comfort-forward staples just yet, there are still moments where you might find yourself in an outfit (or shoes) that could use a bit of adjusting to feel their very best. Luckily, the tricks to making anything feel more comfortable are easier than you'd think: you just need to arm yourself with the right tools. So stock up on a few of these genius things that make your shoes and clothing more comfortable and you'll never have to deal with a last-minute fashion emergency ever again.
Even if you're not planning to retire your athleisure collection anytime soon (who could blame you?), there are still plenty of smart products on this list that you're sure to appreciate. This edit is packed with items that'll not only make your clothes and shoes more comfortable, but will also save you time, prolong the life of your favorite pieces, and generally make the getting ready (and going out) process a lot less fussy. Some of the products are new-and-improved versions of age-old fashion hacks, while others are innovative solutions to problems you may not have even realized you had. But, while the featured products range in purpose and price, they do all have one thing in common: they actually, truly work.
So, what are you waiting for? Start shopping — after all, you never know when these genius products will come in handy.