34 Comfortable Pieces Under $40 Going Viral On Amazon
Caroline McCredie/Getty Images Entertainment/Getty Images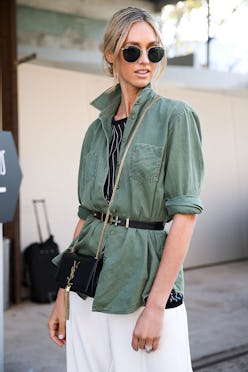 Many of us are willing to tolerate minor discomforts when dressing for a party, a special date, or an important presentation. But when it comes to actual everyday wear, priorities change. Soft knits, flowy dresses, and crisp, cotton basics are essential for building out a well-rounded wardrobe, as these are the clothes you'll find yourself reaching for again and again. If your collection of chic-yet-comfy staples could use an update, check out this list of the most comfortable pieces under $40 going viral on Amazon.
Though you'll find an assortment of clothes, shoes, and accessories ranging from jersey dresses to slouchy jumpsuits to soft, silk scrunchies, the pieces on this list all have a few key things in common. First, each one is extremely comfortable, yet stylish enough to wear just about anywhere. Second, everything costs just $40 or less — that leaves plenty of room in your budget to splurge on fun, statement-making pieces for special occasions. Last, every item has hundreds (or in some cases, thousands) of glowing five-star reviews, so it's a safe bet to assume you'll love them too.
Scroll on to discover 35 stylish and comfortable fashion pieces on Amazon that reviewers are obsessing over now.
This article was originally published on