31 Stylish Pieces On Amazon Under $35 You'll Never Get Sick Of Wearing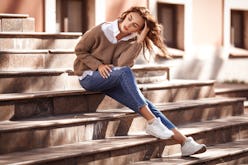 Smart shopping is all about making the right investments. While splurging on the occasional trendy skirt or bag-of-the-moment is fun, nothing beats the satisfaction of picking up a dress or coat you know you'll wear forever. And that's exactly what makes these 37 stylish pieces on Amazon so great; they're completely timeless, so you'll never get sick of wearing them.
If you're stunned by the idea of shopping for clothes on Amazon, you clearly haven't visited their fashion marketplace in a while. Not only are the in-house brands killing it when it comes to wardrobe staples, everyday knits, and comfortable athletic wear, but you can also find pieces from brands like Ralph Lauren, Calvin Klein, Levi's, and J. Crew. Plus, their competitive selection means even more competitive prices, so you can often snag clothes and accessories for a fraction of their standard retail price. All the things on this list, for example, cost less than $35 — even though they're as chic as anything you'd find at your favorite department store. And don't forget about that handy two-day Prime shipping, which is possibly the best part about buying from Amazon.
From dresses and tops to bags and bikinis, scroll on to discover 29 timeless pieces that you'll wear forever.