31 Refreshingly Easy Outfits You Should Try This January
@nycbambi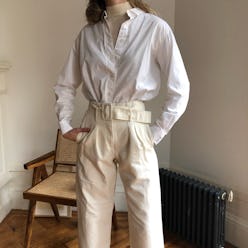 Welcome to 2020, a new year and a fresh opportunity to revamp your wardrobe. It may seem drearily cold, but here's some good news: Every day gets a few minutes longer, which means you can enjoy an extra few hundred seconds of sunshine as you move through the month. Since you'll still likely be getting dressed in the dark though, it's nice to have a little inspiration to kick things into gear when you'd rather just hide out under the covers. So, a cute winter outfit idea for every day of January is rightfully in order right about now.
Below, you'll find 31 fresh options to help you nail whatever style resolutions you may have set for yourself in the new year, along with a little bit of shopping to help you start off on a high note. While all resolutions are obviously made with the best intentions, it's easier to stick with one when you have a little help along the way (which is exactly where these outfits come in to play). Below, you'll find everything from the freshest trends to road test (hello, snakeskin), to a few un-obvious ways to revamp the pieces already hanging in your closet. No matter how you felt about 2019, consider this your road map to starting the coming 365 days out especially strong.
Style All Black Wll Red Boots
Spruce up an all black outfit with a pair of red statement boots.
Throw On A Bright Blanket Coat
A cozy quilted coat is the ideal topper for days when you don't want to get out of bed.
A Long Jacket Styled With Slouchy Boots
Match your boots to your outerwear for an eye-catching ensemble that will still keep you warm.
Pair Colorful Coat With Snakeskin Boots
Try swapping your standard shearling for a jolt of blue, then styling it with your favorite jeans and long-sleeve tee.
Style A Single Color Palette
Not into full on monochrome? Try tonal dressing by layering pieces in similar — but not identical — hues.
Wear A Monochromatic White Ensemble
A crisp all white look is especially cool this year. Style a turtleneck under an open button-down for a fresh take on layering.
Use A Fitted Turtleneck As A Base Layer
Winter is all about clever layering. A skin-tight turtleneck is the perfect piece to start with.
Finish A Neutral Look With Snakeskin Boots
For a polished Monday-to-Friday look, style taupe trousers and a camel sweater with a sturdy belt and snakeskin boots.
Style A Sweater As A Scarf
Instead of a traditional scarf, layer on the sweaters and try tying one around your neck in case you get chilly.
Swap Your Linen Blazer For A Velvet Style Instead
To take your favorite slip dress into cooler weather, try styling it with a crisp velvet blazer and ankle boots.
Dress Up Your Look With Statement Tights
Printed tights are an unexpectedly chic way to make an all-black ensemble feel fresh.
Add Delicate Details
Feathers or pearls are ideal accents for a going out ensemble. Whether it be statement accessories or a pretty top, a little shine and plumage were made for dancing the night away.
Layer A Basic Turtleneck Under A Dress
Break out your favorite lightweight summer dress by layering a sleek black turtleneck underneath.
A slip skirt and tall boots are a must-try winter combination. Add a sweater on top for an effortlessly chic ensemble.
Style Denim On Denim
Though denim on denim might seem like more of a summer ensemble, contrasting washes make this combination feel just right for cold weather.
Put On Two Tops
Bring back the '90s and try styling a loose fitted long-sleeve shirt underneath a second tee.
Mix Animal Prints Together
Try mixing your animal prints and pairing a favorite leopard piece with something in a tiger or zebra print.
Try Statement Ankle Boots
For a fresh twist on the classic ankle boot, try a lace-up style on for size.
Belt Your Blazer
Breathe new life into your favorite blazer-centric ensemble by belting your jacket at the waist.
Do Your Suiting
In 2020, suiting will come in all sorts of iterations. Get in on the trend now and try for a cool suit with eye-catching details.
Wear Your Underwear Outside
For a new take on going-out style, make your underwear — like a bodysuit perhaps — and turn it into outerwear. Just don't forget a jacket.
Try A Leather Trench
Embrace this season's coolest outerwear trend and style a leather trench over a tucked-in cardigan.
Try A Statement Bag
Swap out your usual black bag for something fun that you can coordinate with your outerwear.
Dress Up Your Sweats
Yes, you can dress up a sweat suit. Try styling your favorite hoodie and sweats with a structured jacket for a more sartorial take on athleisure.
Streamline Getting Dressed
Tired of wearing jeans every day? Break out overalls or a boilersuit instead and layer with a cozy turtleneck.
Pick Weather-Friendly Footwear
A thick-soled sneaker or boot is your best friend this time of year. Try styling something with a slight platform with a fitted pair of silk trousers for a contrasting daytime look.
Play With Winter Textures
A sleek leather skirt is the ideal partner to winter's thick, cozy knits.
Wear Plaid In New Ways
You don't have to give up plaid once the holidays are over. Try a non-traditional hue (skip the red and dark green) to mix things up.
Swap Jeans For Cargo Pants
Cargo pants are a cool off-duty trend to try for winter, so try styling them with a statement sweater and your favorite sneakers.
Instantly Dress Up An Outfit With Pumps
Try styling relaxed jeans with polished pumps for a high-low office-worthy ensemble.
Add Instant Cozy To Your Outfit
A shearling or knit bag makes any wintery ensemble feel instantly more cozy.