Stylish-Yet-Cozy NYE Outfit Formulas In Case You're Not Celebrating On A Beach
Shutterstock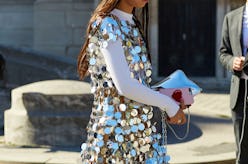 Unless you're ringing in the New Year on a beach (jealous), you're probably going to need to brave a chill to get to wherever you're going. It's inarguably the main drawback of New Years Eve falling in the middle of winter. A warm yet festive outfit is a necessity, particularly if you're heading to more than one event. And no, the singular addition of a massive coat won't make a slinky-dress-and-heels ensemble practical, because even if you make it to your destination without freezing to death, the chances that the party will be balmy enough for a strappy dress are slim. Shivering while holding a cocktail is not the way to greet 2019.
Instead, opt for pieces that are made from substantial fabrics — like a heavy crepe or a dense knit — in silhouettes that lend themselves to creative layering. For example, a wide-leg jumpsuit that can be worn over thermal tights and tall boots, or a long-sleeved midi dress that can be worn over leggings and over-the-knee boots. And if you're in a mountain town where heels aren't an option, there are plenty of embellished sweaters that look great paired with velvet, leather or corduroy trousers and snow boots. Here are a couple of timeless outfit formulas worth adding to your arsenal, or suitcase, this year.
A Long-Sleeved Midi Dress
Opt for a stylish long-sleeved dress with playful details, like this sheer, polka-dot puff-sleeved iteration. The heftier crepe fabric and midi length make it perfect for layering over leggings and a bodysuit. Finish the look with over-the-knee suede boots and a playful evening bag.
Style it with:
This thong bodysuit leaves no visible panty line and features adjustable skinny straps so you can wear it under a range of silhouettes. It also comes in a variety of colors.
These over-the-knee boots provide considerable extra warmth under a dress and will also look great over fitted jeans.
These double-knit merino wool blend leggings are breathable, moisture-wicking and oh so cozy. Plus they boast flatlock stitching which means there are no outseams, so they're perfect for layering under dresses.
A gleaming evening bag like this pearlescent shell version will add an extra dose of festivity to an otherwise demure ensemble.
A Wide-Leg Jumpsuit
Make a statement with a sequin jumpsuit. This matte-sequin version in dusty rose gold features a wide-leg silhouette that's perfect for wearing over tall boots and tights. The crewneck neckline and long sleeves are also ideal if you want to layer a tank or slim-fitting tee underneath. Finish with modern earrings.
Style it with:
These beige, calf-hugging suede boots will tone well with lighter ensembles, but are also available in black and burgundy. Wear them for warmth under wide-leg silhouettes.
These sleek earrings finish the look without being overpowering. Plus they're a refreshing alternative to shimmering chandelier earrings that are everywhere on NYE.
This tee is made from an ultra-fine, ribbed cotton so it fits like a second skin. Tuck it into thermal tights to create a smooth line under your jumpsuit.
These heattech tights are sleek and breathable. They're perfect for wearing under jeans, trousers, skirts and jumpsuits.
An Embellished Knit
If you're plans are on the more casual side (read: hitching a gondola), opt for a pailette-embellished sweater. Layer it over a turtleneck or long-sleeved tee and pair with high-waisted jeans and boots. If you're braving snow and ice, choose a chunkier snow boot and finish with a crossbody bag.
Style it with:
A leather trouser provides warmth and protection against gusts of chilly wind, and a fitted silhouette like this iteration will tuck neatly into boots.
Layer an additional turtleneck under the embellished turtleneck sweater. This micro-rib style looks good on everyone and is ultra lightweight.
A luxe, shearling-lined boot in black is perfect for navigating tricky, snow-lined streets.
A velvet crossbody pouch is festive and practical.