28 Highly Rated Pieces On Amazon That Are Comfortable & Look Good On Everyone
Edward Berthelot/Getty Images Entertainment/Getty Images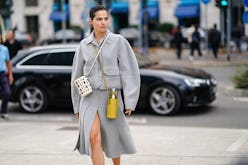 Savvy shoppers are finally starting to catch on to the internet's best kept secret: Amazon, no longer just a destination for stocking up on beauty products and household essentials, is actually home to one of the most incredible selections of clothes, shoes, and accessories online. But this seemingly infinite selection also has its drawbacks — namely, the amount of time and effort that's required to narrow down the best Amazon has to offer. That's where this shopping guide comes in. These 30 highly rated pieces on Amazon are comfortable, look good on everyone, and come highly recommended from fellow shoppers like yourself, so you know you can trust what you're ordering.
Whether you're in the market for some stylish but professional work outfits, a new winter coat, basic, everyday knits, or high-quality athleisure-wear, you'll find all of that (and more!) ahead. Each piece was chosen based upon its style, price, and comfort-factor — and has tons of positive reviews to back up its quality. And remember: if something boasts the Prime Wardrobe label (and you're already a Prime member), that means said item is eligible for a seven-day trial period before you commit to purchasing. You can try up to eight items at a time, and you only pay for what you keep. Best of all, returns are easy and free.
And now, scroll on for 30 stylish, comfortable, highly rated finds on Amazon right now.