21 Brushes That Celebrity Makeup Artists *Actually* Use
Daniel C Sims/Getty Images Entertainment/Getty Images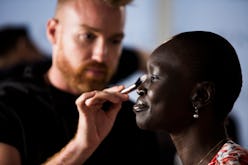 Finding the perfect makeup brush is almost like Goldilocks and her three chairs... it takes a few tries, but eventually, you'll find a selection that's just right. So rest assured that the brushes makeup artists use on set are ones that give photoshoot-worthy results, every single time.
Foundation and powder brushes the most commonly used brushes because they're used to apply base shades, as the name indicates. The importance here — and for all brushes — are the bristles, so that product won't look streaky and uneven. Always take note of how they feel on your skin... and if you sense a tiny bit of irritation, steer clear. That doesn't mean that you have to spend a fortune on your collection, though (even though Chanel, NARS, and Bobbi Brown are among artist faves). Celebrity makeup artist Lilly Keys, who counts Dua Lipa and Alessandra Ambrosio as clients, recommends foundtion brushes from Sephora's line, as they're budget-friendly (which makes more space to buy two sets!), and work just as well as prestige ones. "They do a couple of different sizes and they're just so soft," she says. "Whenever I use them, my clients always ask me what brush I'm using — they love the feel of them."
Ahead, see the other brushes and brands that help artists paint Picasso-worthy work.
Foundation Brushes
Powder Brushes
Concealer Brushes
Highlighter Brushes
Budget-Friendly Brushes