The 5 Spring Boot Trends That You Can Wear With Everything
Grosescu Alberto Mihai/Shutterstock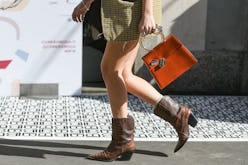 Come spring, a trusty, weather-permitting boot may seem second tier to the strappy sandals you've been waiting months to wear. But who says that you have to abandon your once-loved staples as the seasons shift? In fact, any comprehensive shoe wardrobe isn't entirely exclusive. And while shearling-lined styles may not make much sense as things heat up, spring 2019's newest boot trends are ones you'll be able to wear year round.
The key to making boots suitable for spring is keeping the fabrications and styling in mind. "To keep it light, I love to style my boots with linen," says Laura Villasenin, founder and designer of footwear brand Miista. "It's a brilliant solution for those who even during [the] Spring/Summer season don't want to ditch their favorite boot and trousers combo." Villasenin recommends pairing heavier boots with neutral-colored lightweight pieces. Since boots are a polished option on days when your dressy sandals need a hiatus, invest in styles that can easily be worn with warm weather looks, think lighter hues and delicate details like laces.
Below, you'll find five major boot trends for spring that you should jump on ASAP and a few ways to make them feel totally on trend for the months ahead.
A Western Touch
One trend that is certainly carrying over from fall is the western boot. Alongside fringe jackets and buckle belts, western-inspired boots are huge for spring. Designers like Calvin Klein and Fendi sent western boots down the Spring/Summer 2019 runways in cowhide prints and bold colors. But even if you're still not ready to invest in a full-fledged cowboy boot, there are plenty of western-inspired styles that will ease you into the trend. The most modern iterations are croc-embossed versions, and cowboy boots with embroidery. A croc print adds a subtle exotic touch while the embroidered boot elevates the western touch.
An of-the-moment embroidered cowboy boot adds an edgy touch to an uber-feminine midi skirt and cardigan.
Just in case your closet is overflowing with animal print, here's another excuse to pull out your leopard-printed pants.
Neutrals
Neutral tones like cream, beige and brown have become favorites for spring styling. While black boots were the style de rigueur for winter, neutral tones are a great warm-weather alternative. "A new trend [that] has taken hold in the Miista office [is] 'power-beiging,'" Villasenin explains of co-workers wearing neutrals head-to-toe. "The radical use of all kinds of nude shades, from blush to chocolate, [creates] a result [that] is elegant but relaxed. Perfect for sunny days."
"Warm hues love to be paired with other washed out colors," Villasenin adds. "Pair [cream] with taupe and brown hues for a wearable and earthy look."
A monochromatic green ensemble paired with camel brown boots (and a matching bag) is an ideal way to embrace the new season.
Lace Up
Lace-up boots are ideal for creating depth and detail in a look. While hiking-inspired styles dominated this past winter, for spring, lace-up boots are given a sleek, Victorian twist. A low heeled ankle style with front-lacing is the trend to try (though combat styles remain ever-popular too).
A colorful lace-up boot adds a luxe polish to a great pair of jeans and statement coat look.
Go for a color blocking outfit that speaks volumes with a bright yellow sweater and bold cinch-bottom trousers. Not only do the patent pants accentuate the waist, but they will draw attention to the contrasting white lace boots.
Color
While softer, neutral hues have emerged as a trend, Villasenin says you can expect to see lots colored boots as well this season. Street style trendsetters have ditched their black and white uniforms for splashes of bright colors like sea foam green and pastel yellow. A pop of color via your footwear of choice is a modern way to brighten up your wardrobe.
Instead of resorting to all black to make a bright boot pop, take a note from the runways and mix two unexpected-yet-complimenting colors: red and lavender.
Have you ever seen a more enticing color combination? Embrace bright shades and find a sleek suit that has the same hue as a boot for a work-approved, spring outfit. Finish with a uber-tiny bag for an extra oomph.
Tall Boots
You may have noticed the street style trick of tucking baggier jeans into tall boots as of late. Now, for a warm-weather twist this spring, influencers and editors alike have been seen testing out the tall boot trend with mini skirts, making for the perfect in-between weather look. Designers like Tory Burch and Gianvito Rossi have debuted slouchy tall pairs, that are a welcome alternative to the sleek over-the-knee styles of years past.
For days when the weather is still fickle, layer tall boots over a pair of tights. A buttoned blazer atop a dress adds a polished vibe to the slouchy boots.
For a perfect spring boot ensemble, team a light, sheer blouse and textured A-line mini skirt with white boots that hit just under the knee. The shoes give the otherwise feminine outfit an '80s vibe that is on trend for this season.