20 Gifts That Will Impress The Most Stylish Woman You Know
Leon Schadeberg/Shutterstock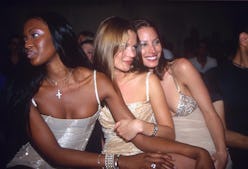 At one point or another most women have all struggled with the task of finding a fashion-minded gift for that sartorially in-the-know BFF. By nature, your best-dressed girlfriend is a woman who's always one step ahead of the trend curve. She enjoys scouring every shopping site for the latest from cool designers like Jacquemus and Eckhaus Latta, and never fails to make an entrance with her designer threads, but, what are the stylish gifts that trendy, fashion-forward friend will actually appreciate?
Instead of going big for the holidays, level up your gift game by appealing to her sleek sense of style and start by seeking out under-the-radar finds from burgeoning brands. Prime examples of these types of gifts: Lorod's black denim jeans that feature a zipper from front to back, or a boldly printed prairie dress courtesy of Batsheva. For the diehard fashion follower, you could gift her a glossy Marine Serre printed PVC tote or a sky-high pair of bubblegum pink sandals from Attico. And while you can definitely treat her to a splurge if you so desire, not every trendy gift has to break the bank (feel free to breathe that sigh of relief now). No matter if she's a magpie at heart or prefers trend-driven minimalism, below you'll find twenty posh present options she will surely fall for.
Statement Jacquemus Mules
Win your stylish best friend over this year with a highly-covetable pair of Jacquemus mules. At this point, anything Simon Porte Jacquemus designs turns into sartorial gold and your BFF will thank you for staying ahead of the curve with these statement heels.
A Twist On Classic Hoop Earrings
Let it be known: You can never go wrong gifting your favorite friend with a pair of gold hoop earrings. But, since your girlfriend is a cut above the rest opt for abstract, sculptural hoops that will take her look to the next-level.
A Slick PVC Trench Coat
For the fashion maven that seemingly owns everything, a slick, red PVC trench coat by of-the-moment designer, Marine Serre will impress her (and everyone else) beyond belief.
Of-The-Moment Beaded Handbag
If your most stylish friend loves pieces with a bit of sparkle, a shimmering, beaded handbag adds just the right amount of sparkle to ensure she's always noticed.
Multi-Colored Shearling Jacket
In terms of gift giving, it doesn't get much cooler than presenting your tried-and-true friend with a plush, multi-hued shearling jacket. Consider it a luxe style she'll keep forever.
Brightly Hued Barrette
Throwback to your childhood friend tendencies and gift your BFF with a fashion-forward hair barrette in an on-trend shade like bright green.
Printed Logoed Bucket Hat
When in search of the perfect gift for the true fashion addict, anything Prada will do. But a logo bucket hat in a scintillating print will definitely satiate her love for all things designer.
Delicate Pearl Drop Earrings
When in doubt, a pair of contemporary cool earrings like a pair of pearl drop earrings fashioned in silver, is one way to gift your friend a stylish and memorable gift.
An '80s-Inspired Velvet Top
For the glitter obsessive in your life, give her the gift of glam with an '80s-inspired velvet top bedecked with shimmering jewels.
Eau de Parfum Inspired By Diana Vreeland
If her closet is all set, give the gift of scent by bestowing your fashion-crazed friend with an Eau de Parfum inspired by iconic Fashion Editor Diana Vreeland.
Gucci Logo Belt
Logomania isn't going anywhere, so gift your friend with Gucci's double G belt. It is both a sound investment piece and a versatile accessory she can always rely on.
Not-So-Average Printed Tights
It's likely your fashion-enthused friend has heard of the rising It-label Saks Potts. Help her stay one step ahead of the curve by gifting her with a pair of their signature logo tights.
Croc-Effect Bag
If your friend has been pining for a croc-effect bag, Staud's two-tone iteration is a fresh alternative to classic handbags, and is one fashion find worth gifting.
Brightly-Tinged Leopard Dress
Anything leopard is always a good idea, but for something extra-trendy, try the print in an eye-catching lime green.
Engraved ID Necklace
For a personalized touch, try engraving a necklace with her initials or a small phrase the two of you share together.
Statement Scarf
An incredibly cozy, wool scarf decked out in vibrant red and logos is one piece that has serious fashion kudos.
Cozy Striped Sweater
Statement knitwear has once again made a revival, and Ganni's latest take combines brightly-hued stripes and cozy wool for a posh present to gift.
Sleek Cat-Eye Sunglasses
Appeal to the friend ahead of every fashion trend with a pair of striking teeny-tiny cat-eye sunglasses, especially ones fashioned in a jewel-toned green and deep purple.
Posh Coin Purse
A posh pint-size coin purse trimmed in a variety of colors is the ideal gift for stashing her credit cards and metro ticket in style.
Gold Puka Shell Necklace
Don't write off the puka shell trend just yet: This gold necklace is a gift your friend will be all for.